Welcome to the exciting new world of electric car track days...
Image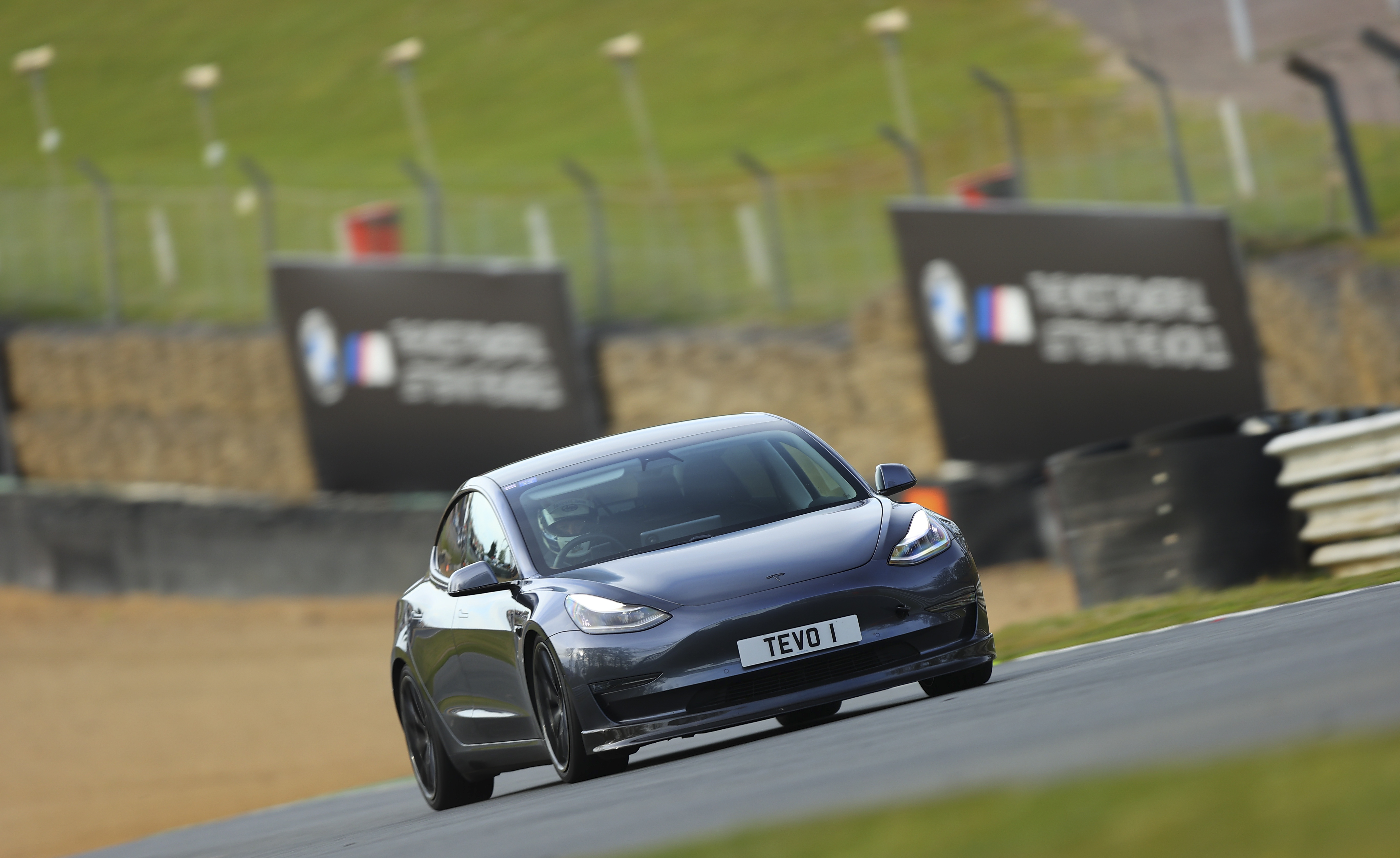 As the electric vehicle revolution becomes normality the natural order of things dictates the desire for people to race them. For internal combustion-engined vehicles track days are nothing new, and for EV owners, especially those of a Tesla-owning persuasion, there is now a means to get behind the wheel without limits on an all-electric track day.
The man to thank for this is John Chambers who has called upon a decades long personal and professional involvement and love of motoring and motor racing, and now, as a Tesla owner, has developed a whole infrastructure for like-minded drivers to get the most from their machines away from public roads with the world's first all-electric vehicle track day.
"I didn't want an electric car. I wasn't waiting for the Tesla to come along. I was sitting there quite happily driving my BMWs," admits Chambers. "If you'd asked me six years ago, would I ever have an EV, I'd have said, no, that's ridiculous, like a lot of people do, because I'm a petrol head. But when I saw what Tesla had done first with the Model S and then with the Model 3, I thought, well, this, you need to take a look at this otherwise you could miss out on something. And when I drove it, I realised what potentially it had."
A love affair with cars and racing developed following formative visits to his local Brands Hatch circuit in South East England watching the likes of James Hunt and Niki Lauda do battle. His involvement with motorsport became professional during his early career with Canon in the company's computer division when team owner and racer Richard Lloyd approached him to help develop a digital timing system.
"The big problem at that point was that there were no computerised lap time as the teams could buy off the shelf, they were doing it all manually with lap charts and for a 24 hour race it was a nightmare. So Richard thought maybe Canon can help as part of the sponsorship deal to develop something.
"I was working on their computers and I sort of then got involved with that and helped him to develop a computerised system, which was probably the first of its kind and through that I could have a go at racing myself and Richard helped me build my first race car."
Image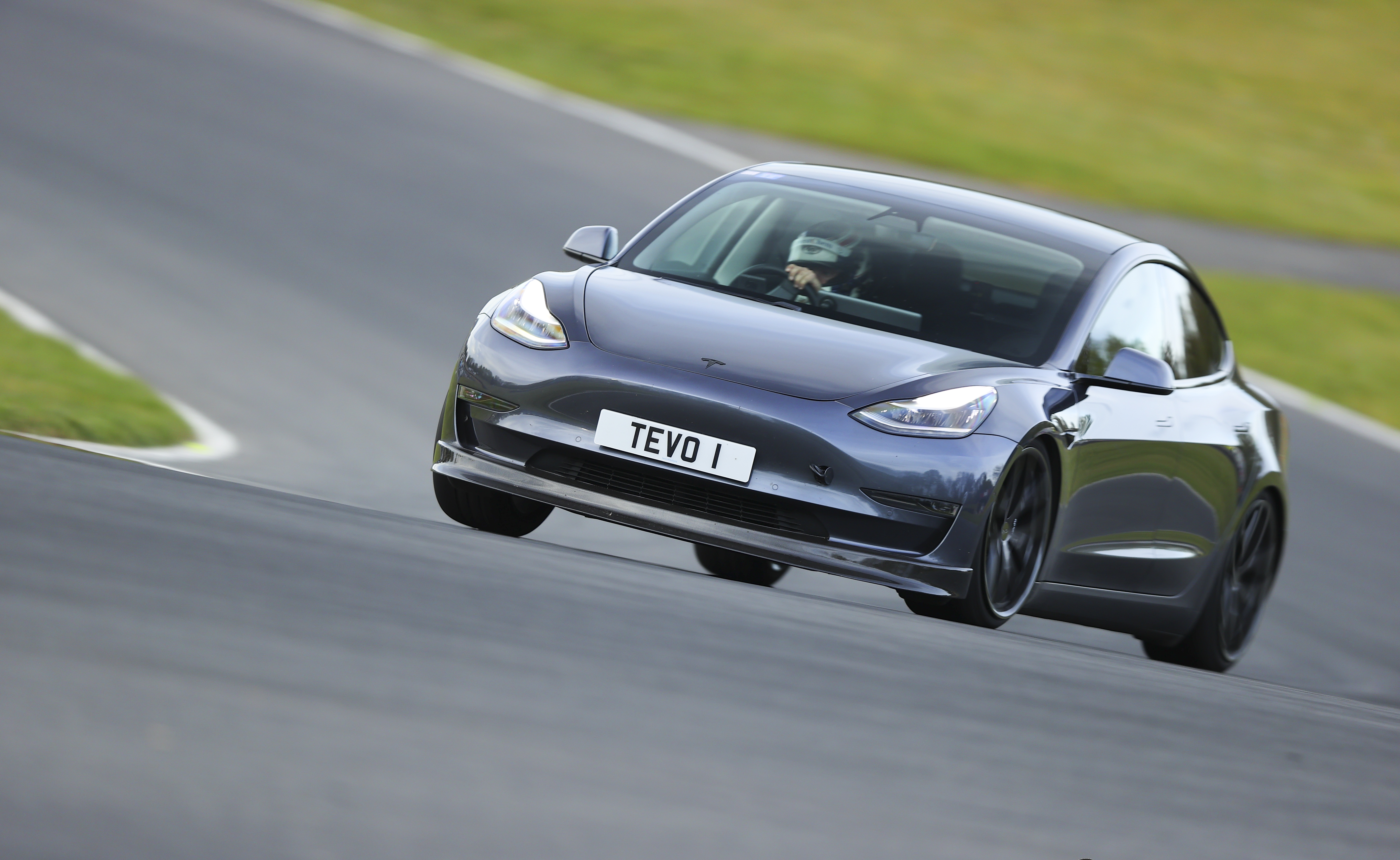 After a few years of motorsport competition, fast forward a couple of decades and John has returned to the track with technology still central to his plans, but with no pistons or exhausts in sight. His company Tevo Solutions has spearheaded the world's first all electric car track day organised exclusively for electric vehicles, and more widely, they provide upgrades and spares primarily for Teslas, but expanding to other electric vehicles in the future and are committed to supporting the EV community. 
Tevo Solutions offers performance upgrades and components for Tesla models, including forged track-ready wheels, upgrade kits, and spoilers and the idea about starting this service came to Chambers after he started to look at what he would need to do to modify the car himself. Finding that there wasn't that much in the market place he has combined the behind-the-scenes infrastructure with the very tangible thrill of using an electric car on a race track, something Chambers finds is more often than not has instant results.
"As soon as you get somebody in the car, either as a passenger or driver 99% of the time that you see the light bulb go on and they understand," affirms Chambers. "They understand why we're so passionate about them and why they really are a game changer. The future is electric vehicles so we felt it was time for a track day for EV cars only. 
"At first, back in September 2019, I was obviously the only Tesla at track days, but since then I've built up a little band of Tesla owners that are interested in doing the same thing. And now there's usually about five or six of us that go out at Brands Hatch or Thruxton on a track day and that number is kind of growing all the time. Track days are not just about outright speed, new owners of very capable cars such as the Tesla Model 3 or Porsche Taycan could benefit enormously from being able to take their cars on track with an instructor and hone their technique."
Tevo Solutions will be hosting the first track day exclusively for electric vehicles in the UK at Llandow Circuit in South Wales on the 18th of August. Driver coaches will be on hand all day to give help and advice on and off the track. 
More information is available here: https://www.tevo.solutions/the-uks-first-ev-only-trackday---18th-august-202