Is the Polestar 2 the the new king of the electric executives?
Words by Vicky Parrott
Pros – Long range; fun handling; Google maps; practical boot
Cons – Firm ride with Perf. Pack; others have roomier rear seats
Price: £46,990 (after UK plug-in car grant of £3000)
The Polestar 2 is a new brand as well as a new car. While the Scandinavian marque – part of the same company as Volvo – launched with the exotic and expensive plug-in hybrid Polestar 1, it's this pure electric Polestar 2 that really introduces it to mainstream buyers. 
Complete with a price of less than £50,000, an official range of nearly 300 miles, a five-door hatchback body (in an unconventional saloon/semi-SUV body shape), and storming pace courtesy of 402bhp and four-wheel drive, the Polestar 2 is here to seriously bother the Tesla Model 3. 
Power comes courtesy of a 78kWh lithium-ion battery pack, with rapid charging speed peaking at a very healthy 150kW for an 80% battery charge in 30 minutes. 
It's fast on the road as well as at the charger, too, although not in the same banzai fashion as the Tesla Model 3. The Polestar takes a more moderate approach, with a 0-62mph time of 4.7sec, which is still sports car fast by any standard. More importantly, the outright pace feels riotous in practice and the Polestar 2 also has more tactile, playful handling than most EVs. 
It's practical, too, thanks to a big hatchback boot opening, and the driver's environment is great. Minimalist, unmistakably Scandinavian design characterises the whole car, with the large touchscreen and Android-based software the window into its techy soul. It doesn't have the fun-filled hidden tricks of the Tesla's infotainment system, but it's a good system that's complete with the logical, user-friendliness of Google maps.
If you don't need the long range of this 78kWh version, a cheaper, lower range model Polestar 2 is confirmed for the near future. 
Range and Charging
Image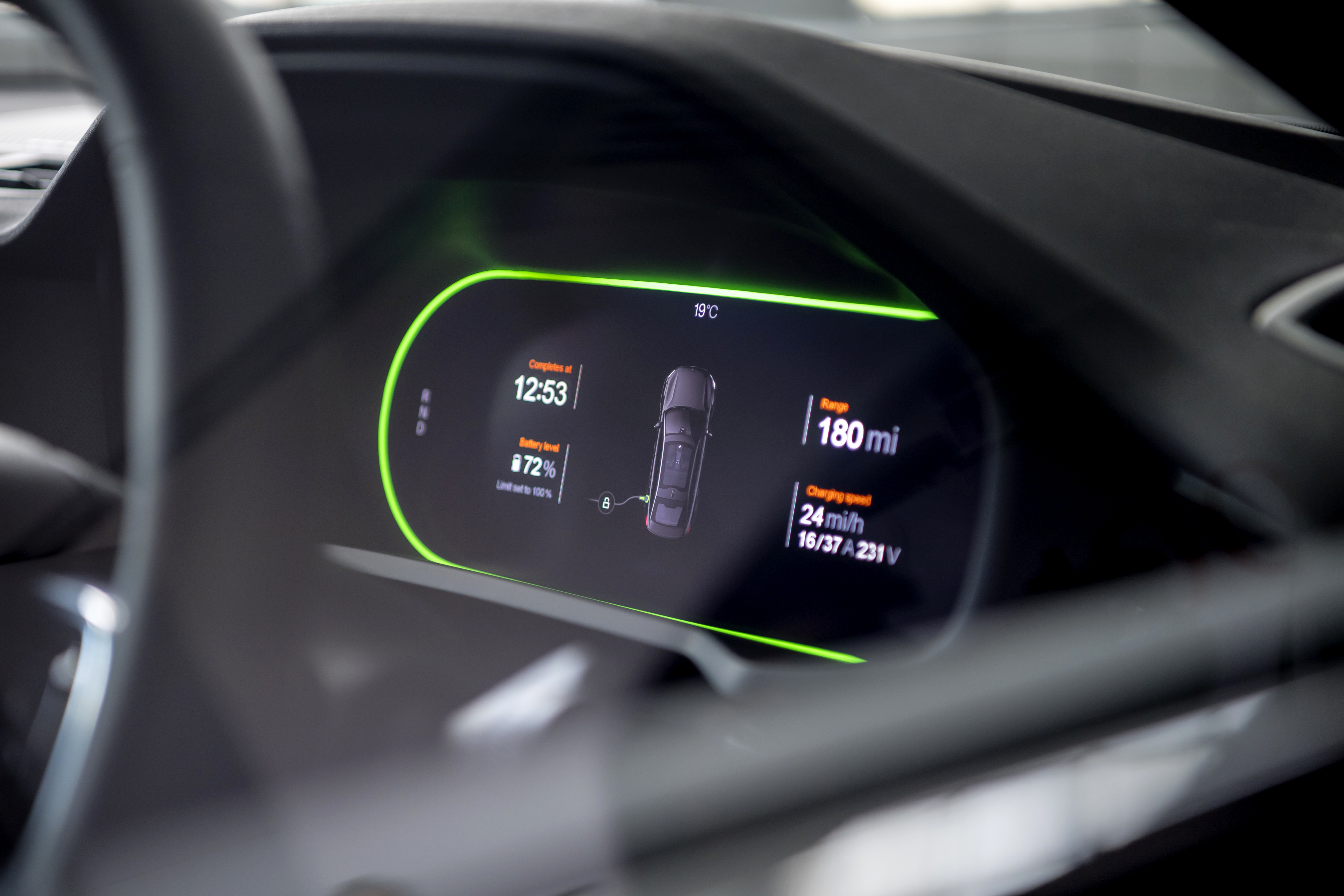 You won't match the Polestar's official combined WLTP range of 292 miles if you're spending a lot of time on the motorway, but 250 miles will be quite achievable in warm weather on a touring run, while a wintery journey on A-roads will likely see range drop to 220 miles or even less. As ever with an EV, the range will be best at slower speeds of 30-40mph, when you'll get close to the claimed range. Generally, we were impressed with the Polestar's efficiency since we averaged 3.0 miles/kWh over a mix of mostly motorway and country roads. 
It's also reassuring to know that the nav's battery prediction function – which tells you what percentage of battery will be remaining when you get to your chosen destination, and shows charging stations on the route if you'll need them – was freakishly accurate. 
If you do need a quick top-up on the motorway then the Polestar 2 is one of the better electric executive cars on offer. The top charging speed of 150kW is right up there with an Audi e-tron, and will deliver an 80% battery top-up in 30 minutes if you can find a DC charging station of 150kW or more. UK motorway service stations are currently more likely to have 50kW rapid chargers, which will do the same 80% charge in around 75 minutes – equating to an additional 100 miles of range in around 45 minutes. 
As with almost all modern EVs, the Polestar uses Type 2 or CCS sockets for its charging. The CCS port is compatible with most DC rapid charging stations in Europe, and you don't need a cable to use these chargers, either, since the cable is already attached to any DC CCS rapid charging station. 
You are provided with a Type 2 cable that enables you to plug in at AC public chargers, or into a home wallbox, the latter of which will do a full battery charge in around 12 hours. A cable for plugging into a domestic three-pin socket is also included, which is useful for trickle charging the battery (you'll be charging at roughly 7 miles of range per hour) when staying over at friends and family, but a full battery charge will take some 35 hours.
A Polestar phone app allows for remote control of the charging, and of course there is a timed charging function that allows you to easily take advantage of off-peak tariffs; you can plug in at 6pm when you get home but the car won't charge until the times you choose, for instance between 11pm and 6am. 
The drive
Image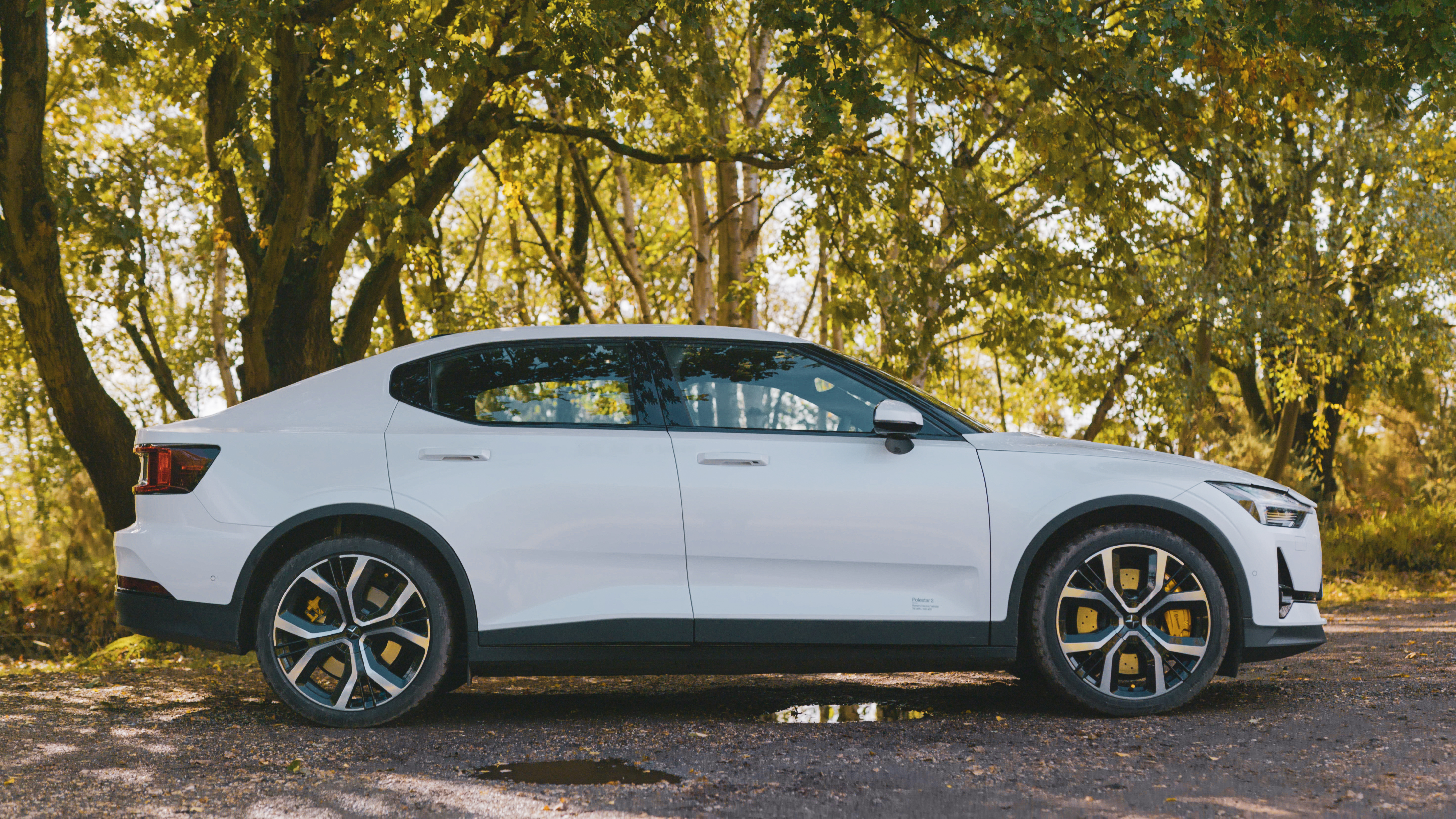 The Polestar 2 seems to be two cars in one, when it comes to the way it drives. Find a decent road and it comes alive if you want it to, with properly pointy, fun handling and shocking point-to-point pace. Or, it feels equally at home just schlepping around smoothly, quietly and without fuss. Crucially, though, a better sense of feedback through the wheel and a more light-footed handling manner makes the Polestar more involving at normal road speeds than alternatives like the excellent if more one-dimensional Tesla Model 3.  
Mind you, our Polestar 2 test car came with the £5000 Performance Pack, which will affect the way it drives significantly since it includes Ohlin dampers with more than 20 different settings. These can't be selected electronically; the dampers are manually adjustable, so you'll have to get your toolkit out and be willing to get a bit greasy to alter the suspension rates. You could argue that this is a bit like paying extra for an abacus to go with your iPad – it's certainly an intriguingly analogue addition to such a futuristic car – but Ohlin dampers are world-renowned for building high quality suspension in top end motorsport and performance cars, so it promises great things.
And in many ways, the Performance Pack lives up to those expectations. The ride is firm but tightly controlled, so you feel the bumps and compressions in the road even if there's rarely any jarring or awkward body movement. It also settles nicely on the motorway and eases into a calm, long-legged touring style that'll make long journeys feel effortless.
The steering has a linear response and feels predictable and communicative in any of the three setting, but we like the heaviest of them when you feel most inclined to enjoy the quite assertive, grippy four-wheel drive handling. 
Not only that, but the Brembo brakes that also come as part of the Performance Pack are just fantastic. Not only in terms of the stopping power, but the brake feel they deliver is about as good as we've experienced in any EV. 
There are, varying levels of brake regeneration on the Polestar 2, which you toggle through on the screen. You can either have it off altogether, or there are two 'one pedal' drive modes – the lighter of which doesn't feel heavy enough to warrant the one pedal name in our books. You do also get the PilotAssist semi-autonomous drive mode (that some may be familiar with from Volvo), which brings traffic jam assist, adaptive cruise control and advanced lane-keep. It's not as advanced, nor as effective as the Tesla system but it is good for easing tiresome, traffic-clogged motorway or urban journeys.
Whatever the conditions, the refinement in the Polestar, and the quite natural-feeling control weights all make it an easy and to car to drive. Yet it doesn't really feel like a car that wants to be driven hard in the same way that a BMW M3 does, even if though it makes sense to consider the Performance Pack as being to Polestar what M is to BMW, or RS to Audi. Yet it just doesn't have that sense of overt aggression at all. Most of the time, it just feels like a ferociously fast, slick executive car. It's only when you choose to really find out what it can do that you discover its playful, encouraging, sports-saloon persona. Arguably, that hidden, discreet naughtiness is exactly what many potential Polestar owners will enjoy most. 
Even so, those drivers who simply want the Polestar for a comfy commuter or family car would be well advised to stick to the standard non-Performance Pack car, which we're yet to try, but promises a softer ride. 
If you're looking for an EV that's got long driving range, is practical enough for family living and don't mind a bit less comfort in the name of a sports-executive experience when you want it, the Polestar 2 Performance Pack sets a new benchmark at this price range. 
The Polestar 2 in numbers...
Motor: Dual electric motors, four-wheel drive
Battery capacity total/usable: 78kWh / 72.5kWh
Max power: 402bhp
Max torque: 660Nm 
0 to 62mph: 4.7 seconds
Top speed: 127mph
Range: 292 miles (WLTP combined)
Efficiency on test: 3.0m/kWh 
Price from: £46,660 (after UK plug-in car grant of £3,000)
The tech stuff
Image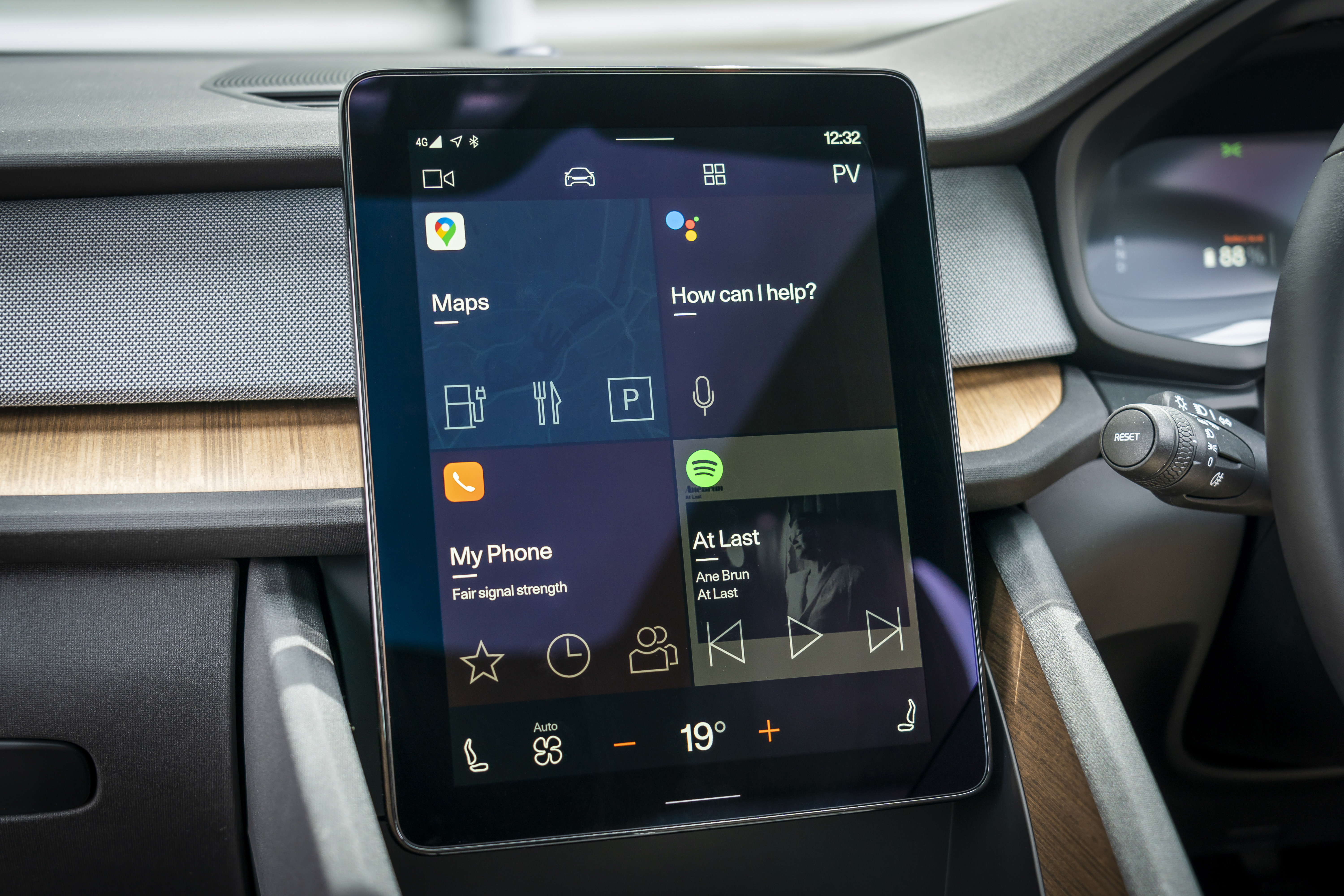 The Android-based touchscreen system is one of the Polestar's chief party tricks. Having Google apps and services native to the system mean that they integrate well, and you have an instant sense of familiarity if you've used Google maps and all its other phone and desktop features. And let's face it, in 2020 who hasn't? It sounds so simple, but being able to type in the name of your destination if it's a public place – shop, restaurant or otherwise – or being able to simply type 'charger' into the bar to find all the nearby chargers, just makes a lot of sense. The navigation arrows that pop up on the dials are also easy to follow, but you don't get a full map view as you do with the digital cockpit from Audi and others. 
The screen itself has sharp graphics, and of course you have standard wireless phone charging, DAB radio and Bluetooth. Apple CarPlay is also coming to the Polestar 2 from 2021. There are also profiles that you can set, so that it's easy for two drivers to save their preferred infotainment settings, such as preferred playlists and podcasts, and swap between them.
All of this – and even the car's steering and brake regen modes – can also be assigned to a profile connected to the Polestar app, meaning that the car recognises who's got into the car and assigns the relevant seat position, infotainment and more. 
What's it like to live with?
Image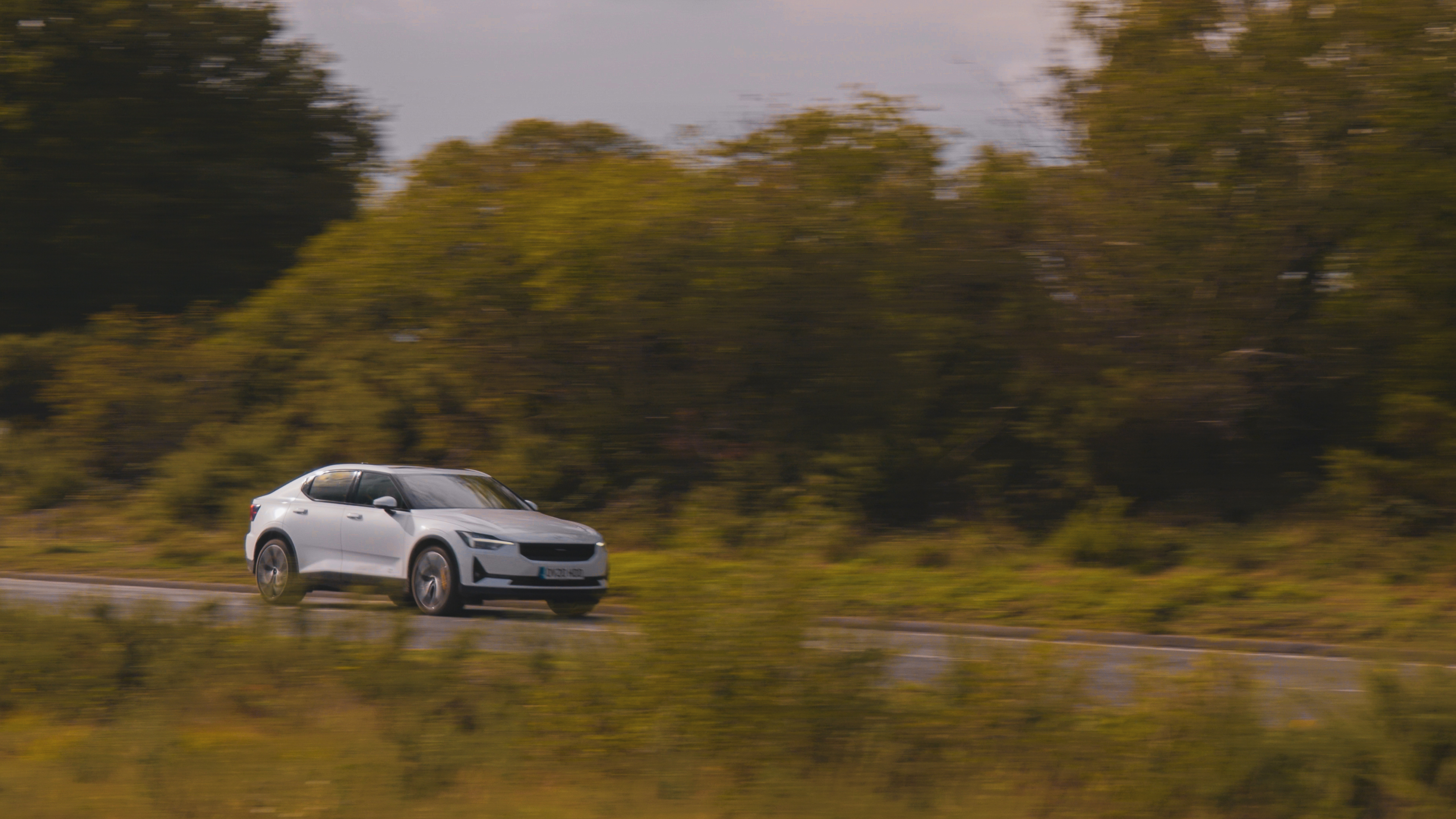 The Polestar is one of the more practical options in the executive class thanks to the big hatchback boot opening, which reveals a useful 440 litre boot. It's not up there with estate alternatives from Audi, BMW, Volvo, Mercedes and otherwise, but it is better than the saloons it rivals, including the Tesla Model 3 and BMW 3 Series. You even get a nifty divider that flips up from the boot floor and has straps to keep your bags from rolling around the boot floor. A shallow, additional storage space under the bonnet is also great for storing cables out of the way. 
Rear passenger space is decent, with enough room for two average-sized adults to get comfortable. Taller people might find headroom a little tight, and the rear doors could do with opening wider for better access - especially if you have to lean in to wrangle children and car seats every day - but otherwise the Polestar is more than spacious enough to make easy work of family life.  
Up front, the driving position is good with a broad spread of movement. You can drop the seat very low for a sportier, hatchback feel if you wish, but given the high waistline of the car most will favour a slightly higher seating position. 
Most of the controls around the dash are easy to use. We like the conventional air vents that allow you to change the direction of the fans simply by nudging the vent, but it is a little annoying that the temperature controls are within the screen. Even though you can change the temperature without leaving the nav screen thanks to a climate control bar at the bottom of the screen, it's still not as easy as traditional temperature buttons. Otherwise, the Polestar's driving position and cabin ambience is very good. The standard upholstery is made from recycled plastics, and feels tactile and durable – more than good enough to match the classy, well-built feel of the rest of the Polestar. 
You also get more comforts than you might expect as standard. There's only one trim level on the Polestar 2 and the number of options you can add is limited to the wheels, body colour, and a few packs. Matrix LED headlight, keyless entry, a full suite of safety aids including adaptive cruise control, blind spot assist and traffic sign recognition, a 360-degree parking camera, heated front seats and steering wheel, climate control, a Harman Kardon sound system and 19-inch alloy wheels is all included. 
Our only quibble is that the colours are limited. Black paint is the standard paint finish, and the optional colours are all rather monochromatic; you can have anything you want as long as it's a shade of white, grey, silver or black. 
How much will it cost?
In terms of costs, the Polestar 2 is very competitive with its only direct rival from Tesla. At the moment, the Polestar looks a little pricier to buy since its lower-range model hasn't been released, but that will come in time. Next to the higher-end Model 3s, the Polestar is just as well equipped and costs a similar amount to buy. 
Of course, next to petrol or diesel alternatives like the similarly sized Audi A4, BMW 3 Series and co, the Polestar is more expensive to buy. But, the Polestar is exempt from normal VED road tax as well as the expensive 'premium' car tax normally applied to cars of £40,000 or more, amounting to a saving of some £3000 over six years of ownership. 
A full charge at home will cost around £11 on a standard tariff (you could halve that by using overnight tariffs) - which works out at under 6p per mile; roughly a third what you'll pay to fuel a petrol car doing 40mpg, or half the costs of a diesel car doing 55mpg. All of which means that the higher purchase price compared to conventional rivals is likely to be offset within the first three years for a driver doing 10,000 miles or more per year. 
Company car users are in an even better situation, since BiK company car tax costs are set at comically low rates for the next three years. A 40% tax payer will pay only £199 in Benefit in Kind tax in 2021/22, and £399 in 2022/23, which is a saving of £1600 per year over a BMW 330e plug-in hybrid, or a remarkable £5000 per year saving compared to a BMW 320d M Sport. Big tax write-offs for companies and company owners choosing to run EVs are also big incentives. 
Should I buy one, then?
Without doubt, yes. It takes a while to unpeel the layers of the Polestar 2 Performance Pack. Everything from the unusual yet appealingly simplistic styling, to the laid back way it goes about normal driving before revealing genuinely involving, encouraging handling and ballistic mid-range thrust demonstrates a car of quite remarkable breadth of talent. A lot of potential owners will find the ride comfort on the Ohlin dampers a bit much on a daily basis, but for those drivers coming from performance saloons in other brands the Performance Pack will feel spot on. 
Ultimately, the Polestar has better perceived build quality, better practicality and better handling than the Tesla Model 3, and it is the first electric car to really prove that Tesla isn't the only company that can build a car that feels as much tech product as transport. High mileage drivers may understandably be swayed towards the Model 3 by the additional convenience of the excellent Tesla Supercharging network, but otherwise the Polestar 2 is the new king of the electric executives. 
Image