Honda e review: a small car that's both retro and futuristic
Words by Vicky Parrott
Image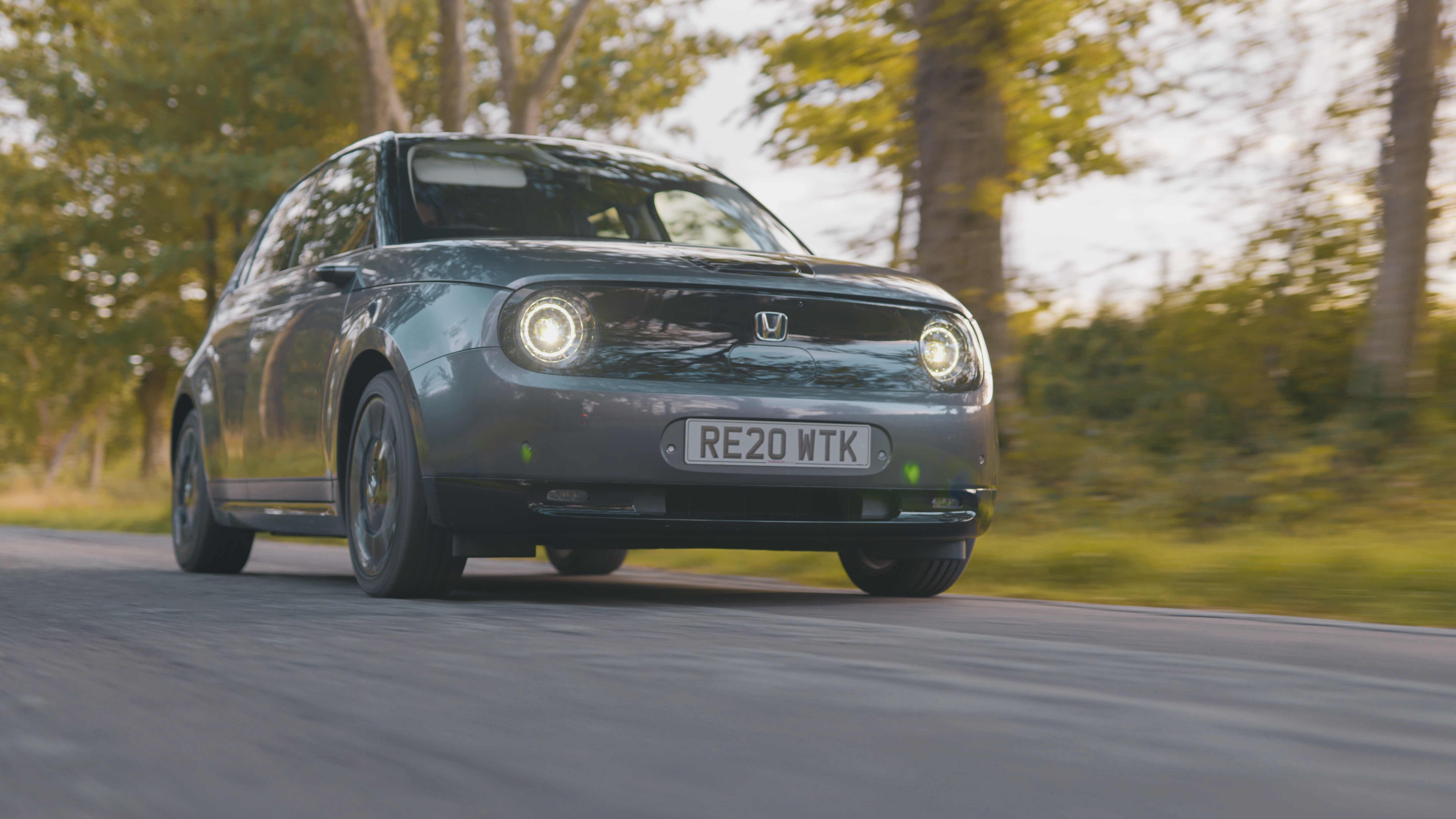 Pros – Avant-garde looks; loads of equipment; a joy to drive 
Cons – Low range; small boot; no cable storage
Price – £26,660 - £29,160 (after UK plug-in car grant of £3000)
The Honda e is an intriguing little car. Brazenly forward-thinking in its tech, from the standard side cameras in place of mirrors to the wall of touchscreens in the cabin, it's a ground-up new car that revels in technology as well as retro-modern design. Honda reckons that its styling cues come from the first Civic, but the cheekier amongst us might also suggest a resemblance to a Mk1 VW Golf. 
Regardless, the owl-eyed, five-door only Honda e is a spectacular piece of design, and it needs to be if it's to justify a price of some £30,000 and more before the government grant. That, despite a driving range of up to 137 miles depending on which of the two generously equipped trims you go for. When there's (granted, less stylish and tech-filled) alternatives like the Renault ZOE and Peugeot e-208 offering longer range and more space, and the VW e-Up, Skoda Citigo-e iV and Seat Mii Electric offering a vastly cheaper electric city car option, the Honda does seem to have a lot to prove. Mind you, finance deals start from under £300 per month with a modest deposit.
It's also not alone in the compact, premium-priced, low-range electric car class; the BMW i3 has already set a very high standard offering a similar recipe, and the new MINI Electric also joins the fray with a similar range and price. 
The Honda is arguably a less conventional take on things. A brand new platform offers rear-wheel drive, batteries in a mattress along the floorpan, and a rear-mounted electric motor offering 134bhp in the standard car or 154bhp in the Advance model that we're driving. 
A 35.5kWh lithium-ion battery powers the motor, and in case you were wondering - there are no plans to offer a bigger battery with longer range. Honda believes that the range on offer is enough for the target audience, and is also keen to keep the weight of the 1525kg Honda e down to keep it feeling fun to drive. 
Motor: Single electric motor, rear-wheel drive
Battery capacity total/usable: 35.5kWh / 32kWh
Max power: 134 - 152bhp
Max torque: 315Nm 
0 to 62mph: 8.3 – 8.5 seconds
Top speed: 90mph
Range: 137 miles (WLTP combined)
Efficiency on test: 3.6m/kWh 
Image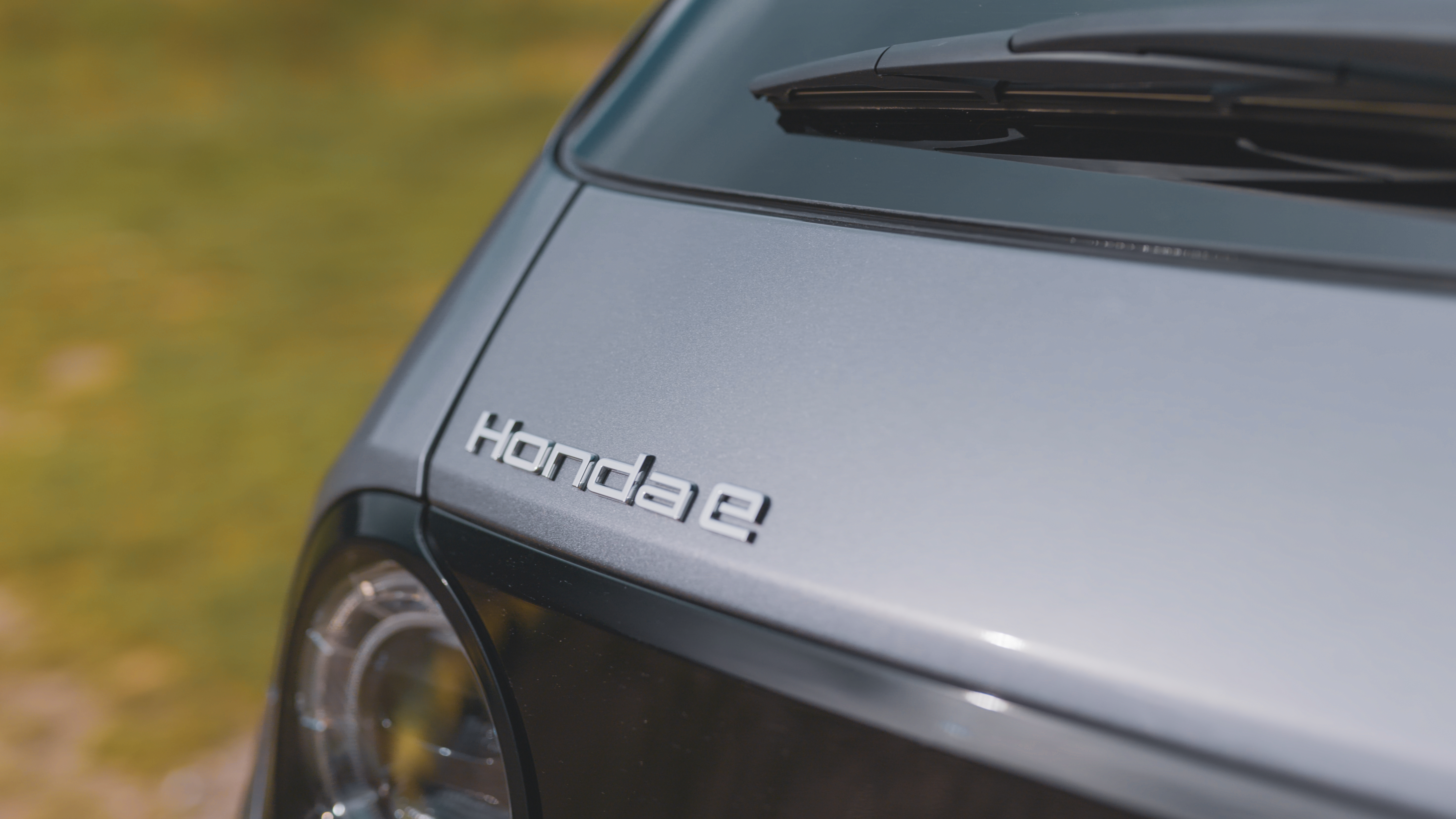 The Honda's official range of up to 137 miles is fairly achievable in real world conditions, going by our experience in an Advance model on 17-inch wheels (which will be less efficient than the smaller 16-inch wheels also offered). You'll match or even better the 137 mile range in warm weather if you do a lot of your mileage in town, or a steady motorway journey will see that drop to around 100 miles. Cold weather will likely see those estimates fall be another 20 miles or so. 
Rapid charging is done via the CCS port located on the top of the Honda's bonnet, under the contrasting black panel. It'll charge at up to 100kW, but even Honda admits that it will only peak at those speeds briefly (due to the complexities of charging a small battery very quickly). As a result, plugging a Honda e into a 100kW ultra-rapid charger will get you an 80% top-up in 31 minutes, but the much more common 50kW chargers will take only another five minutes or so to do the same.
Plug into a standard 7kW home wallbox with the standard Type 2 cable provided and you'll have a full charge in under five hours. Honda also gives you a cable for charging at standard three-pin domestic sockets, which will do the job in sixteen hours. 
Don't panic about the safety of charging the Honda e in bad weather, either. The recess that the charging sockets sit in, on top of the bonnet, does look alarmingly bucket-like to be safe in heavy rain. Rest assured that there is drainage and Honda insists that it's safe to charge the e in bad weather, including snow. However, if you are worried then Honda does offer a charging 'bag' that fits over the port while you charge to keep the worst of the elements out. 
A free Honda phone app is also offered, which allows you to set the charging times, check the charging status and pre-set the cabin temperature ready for your departure time. 
Image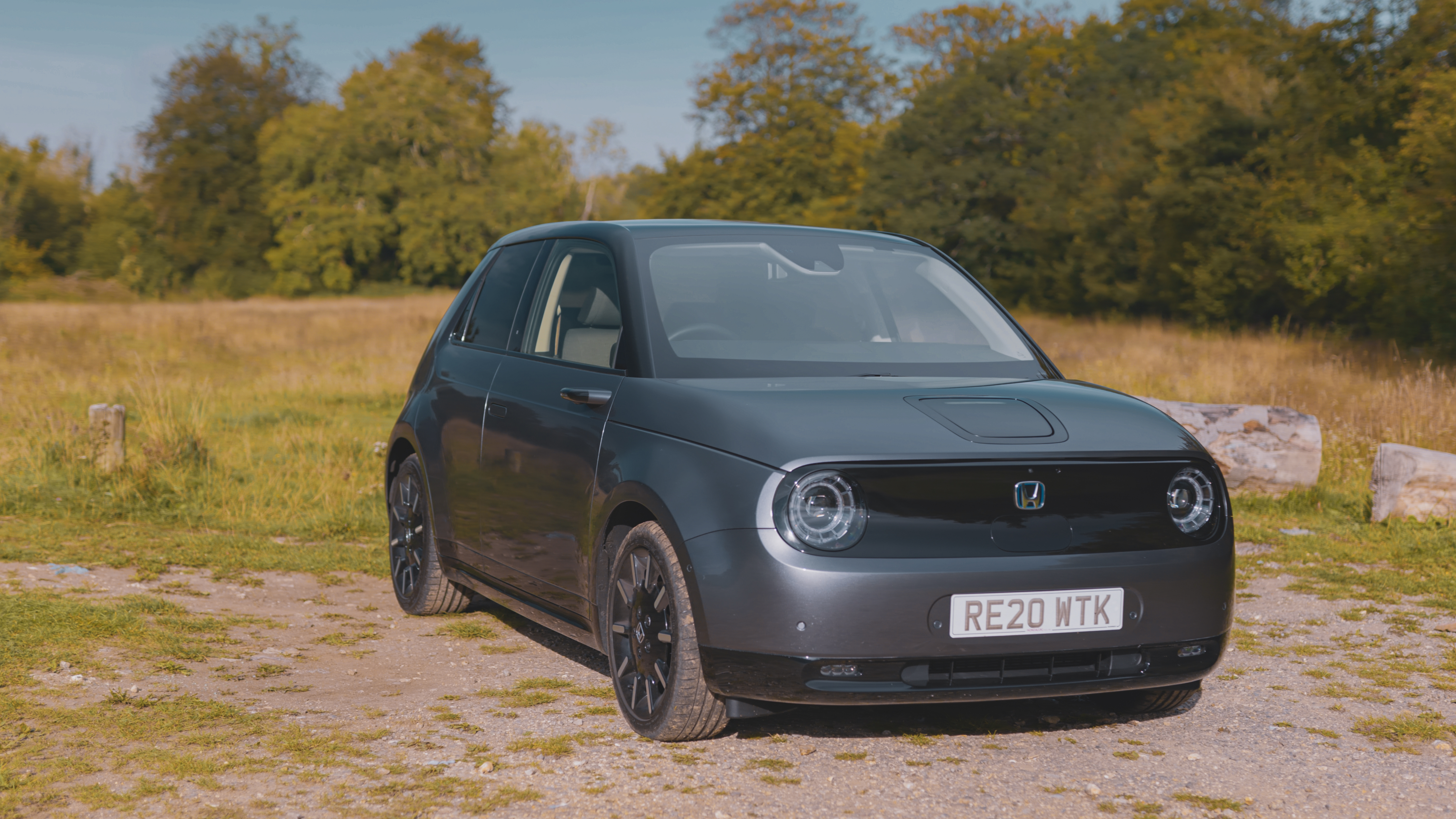 The way the Honda e drives is one of the chief reasons you might buy it. It is an absolute gem to wind through town, with precise but light steering, a slick ride comfort and a hilariously tight turning circle that makes it not just easy but even fun to fling gamely around a multi-storey car park or mini roundabout. 
It's also stable and more than responsive enough to be comfortable on a motorway cruise, and ultimately – wherever you're driving – the e feels satisfyingly fluid and easy-going. 
Acceleration is more than rapid enough; you can put it in Sport mode for sharper throttle response but it's not like the Honda feels slow in its normal mode. 
The brake regeneration on the Honda is comprehensive, to say the least. There are four in the standard drive mode, which you adjust via the steering wheel paddles, or you can punch the 'one-pedal mode' button to activate much heavier brake regen', and toggle through the three modes also within that setting. Having seven levels of brake regen' is a bit overkill, but it does make it easy to progressively increase the regen' to slow the car down - almost as you might an automatic gearbox in a normal petrol and diesel car. It's also progressive and easy to modulate in any of the three one-pedal drive mode, although plenty of drivers might prefer to just stick with the old-fashioned method of using the brake pedal.
And in case you're worried about the safety of brake regen' kicking in with cars following closely behind, the brake lights do come on when the car brakes itself to any significant degree. This is required by law, and is the case for all EVs. 
The Honda has technology at its heart. For a start, there are the camera side mirrors, which take the place of traditional mirrors on every Honda e. The camera feed sits in neat mounts at the bottom of the windscreen pillars, and offer decent colour contrast and graphics. The view is adjusted in just the same way as a normal mirror, via buttons on the driver's door. 
We found that in low-light conditions, around dusk or dawn, the camera feed looks quite grainy and loses definition, but in full dark the cameras do offer better contrast than standard mirrors. Honestly, while we like the cameras, and appreciate the fact they reduce drag (and make the car usefully narrow for sneaking through tight gaps in town), we'd also rate it a bonus if you could at least choose conventional mirrors instead. Plenty of people might, understandably, worry about the reliability or cost of repairing the cameras, or might just find the tech a bit unnecessary when normal mirrors still do a good job. 
Honda didn't stop with the camera mirrors, though. Two 12.5-inch touchscreen mounted on top of the dash offer nav, DAB radio, USBa connectivity, bluetooth, Android Auto, wireless Apple CarPlay and a new voice control system that you activate by saying 'Okay, Honda.' 
The screen graphics are good, if not quite as good as those in the BMW i3, and the menus are logical. Cleverly, you can also switch the screens. For instance, you can set the nav up on the screen closest to you, and then switch it to the screen nearer the passenger while you choose a podcast or music source, meaning that you never lose sight of the nav guidance while driving. 
Not just that but you can also turn the screens into a digital aquarium, for some zen time while charging. Or if you'd rather a more diverting way to spend your time than watching pretend fish, there's an HDMI cable so you can plug in a games console. 
Go for the Advance model and you also get a rear-view mirror that doubles as a rear-facing camera for the full overload of screens. 
All of this really can be a bit overwhelming when you first slide into the Honda's light and comfortable cabin, but ultimately in practice the e's screens can be used in a totally conventional way if you wish, with the nav screen near you and the other screen really just for the passenger to play with. It's also fairly easy to use on the move since the ledge beneath the screen makes it easy to steady your hand and hit the icons accurately. 
Image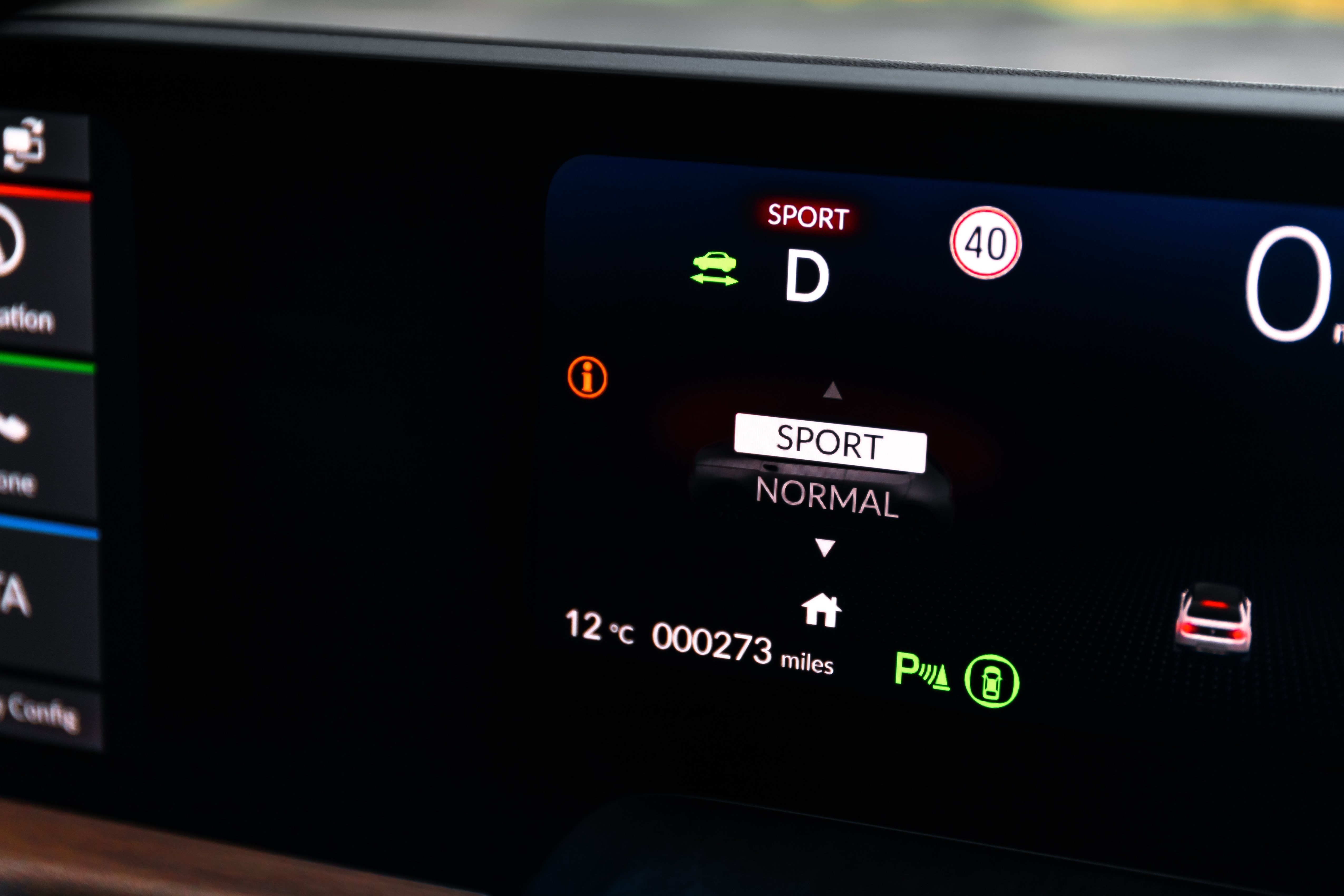 Crucially, Honda has also added a physical shortcut button so that you can easily dim the screens or turn them off while your music carries on playing. Prod them, and they instantly come back to life. 
Elsewhere, the driver's digital readout is simple and easy to read (and being so high-set you don't miss having a head-up display), and the climate controls are straightforward buttons beneath the screens. So yes, the Honda's multiplex of screens can seem a bit much, but ultimately they're easy to use, they look great and you can use as many or as few of the features as you wish. Within a few hours we found that we rather enjoyed the appearance and usability, and we suspect that most people who are interested in the Honda will find the same. 
You also get all the advanced driver aids you could wish for. Autonomous emergency braking around town, adaptive cruise control and lane-keep assist which combine to give it a semi-autonomous drive mode that functions well in traffic. The Advance model also gets blind-spot warning and a self-parking system. There's no space saver or spare tyre, though, as is unfortunately the case with every EV on the market due to difficulties with packaging a wheel and batteries. 
What's it like to live with?
Image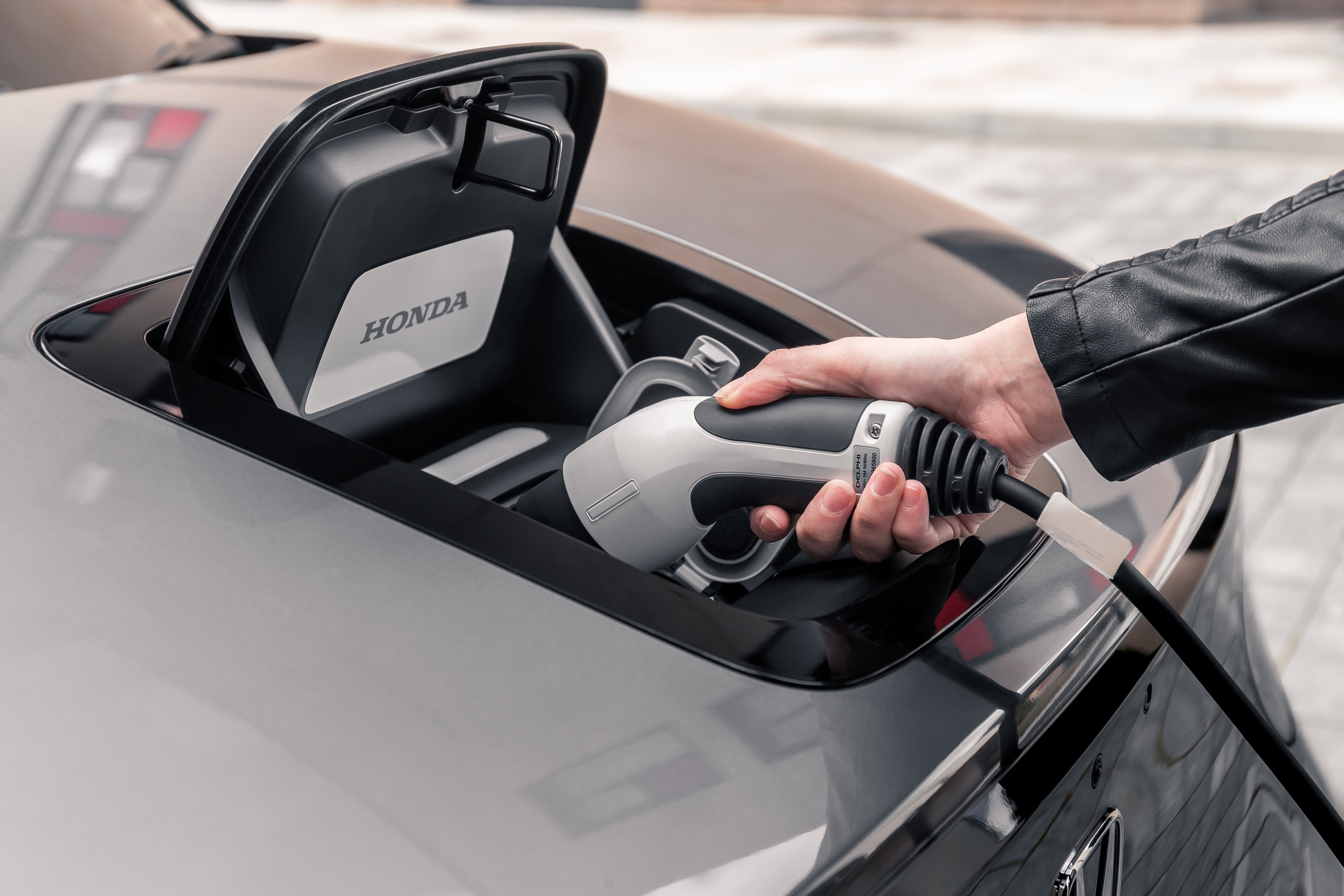 This is another strong area for the Honda e. Its standard five door layout is hugely useful next to the Mini and Fiat 500e's three-door setup, and there's enough space for a couple of kids to get comfy on the two-person only rear bench with surprisingly generous head- and legroom by small car standards. 
Up front, the driving position is also good. We'd like a broader range of vertical adjustment to the steering wheel, and more lumbar support, but most drivers will find it very easy to get comfy and the textile seat finishes in the Honda are lovely and tactile yet feel durable. It certainly feels appropriately more upmarket in the Honda than it does in a Peugeot e-208 or Renault ZOE, even if there are a few scratchy plastics if you look for them.  
The only thing that does let the Honda down is its small boot, which is hampered by a high boot floor as well a general shortage of space. You'll struggle to get a couple of cabin bags in, although a light buggy will be fine. More annoying is that there is no dedicated cable storage, which seems crass in the extreme for a car designed from the ground-up to be an EV, so you're stuck with the cables taking up a useful amount of the space if you want to take them with you. 
Even so, if you can live with the small boot, the Honda will be one of the easiest small cars to live with.
Image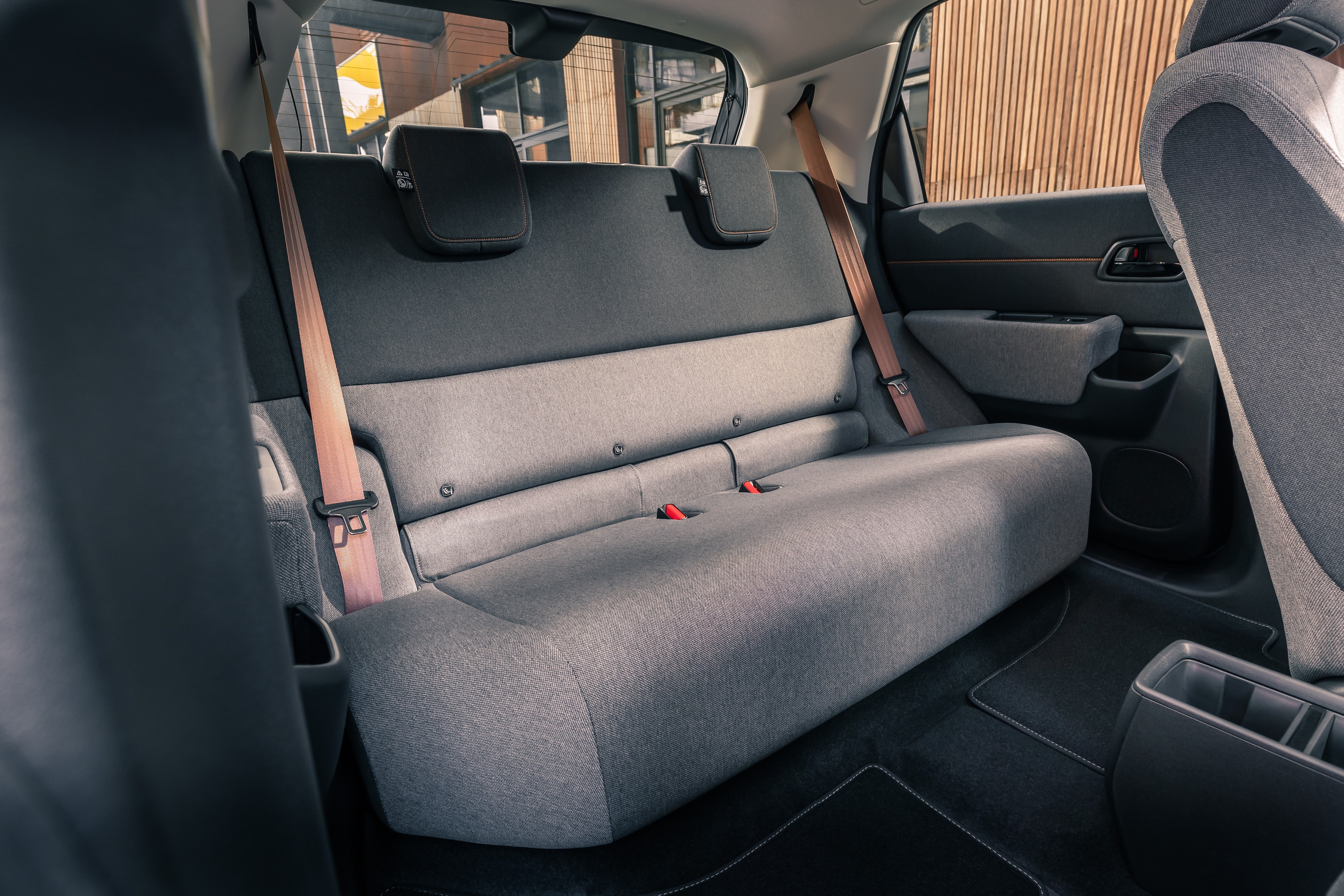 Of course, being an electric car it is also exempt from road tax and costs very little to 'fill up'. On a standard domestic home utility tariff, a full battery from empty will cost under £5 – or around 4p per mile. We'd encourage you to look to the various electricity providers who offer renewable energy and EV-specific tariffs, since they bring much lower overnight charging costs that'll halve that amount. 
The Honda e is warrantied for three years with no mileage limit, and the battery is covered by an eight year, 100,000 mile warranty. If the battery drops below 70% of its as-new performance within that period, Honda will refurbish or replace the battery. 
Servicing is required every 12 months, but Honda offers five year, fixed price service plans that bring servicing in at less than £200 per year.  
Absolutely, but you've got to really want it if you're to justify it. As we've mentioned, there are bigger and longer-range rivals available for similar or significantly less money. So, if you simply want a straightforward small, about-town EV with five doors to make the school run easy, we'd point you towards the VW e-Up and its equivalents from Seat and Skoda, or the Renault ZOE is great value for the 245 mile range on offer. 
It's also not perfect – the lack of cable storage, the fact that you have camera mirrors whether you want them or not, the small boot… There are jobs for the facelift already in evidence, here.
But if you want a car that makes a statement? That you feel good to be seen in, and that is poking that adorable LED-lit nose into an era where cars will be as much (if not more) a tech product than mere transport? Well, the Honda e is it. It's as lovable as a city car can be, is a delight to drive, and will cost very little to own once the purchase costs are accounted for. 
And let's not forget that there is a proven track record for posh, small car popularity. Just look at the success of the Mini and Audi A1. Here, Honda has done a fantastic job of translating that dinky-but-classy appeal to the electric era, with a fresh and unconventional approach. 
So yes, you should buy one, provided you're willing to pay for all that charm and tech delight. Hopefully there are enough buyers out there that feel the same, because the little Honda absolutely deserves to succeed. 
Image