FIRST DRIVE: Citroen AMI - oversized Kinder Egg toy or city centre solution?
Image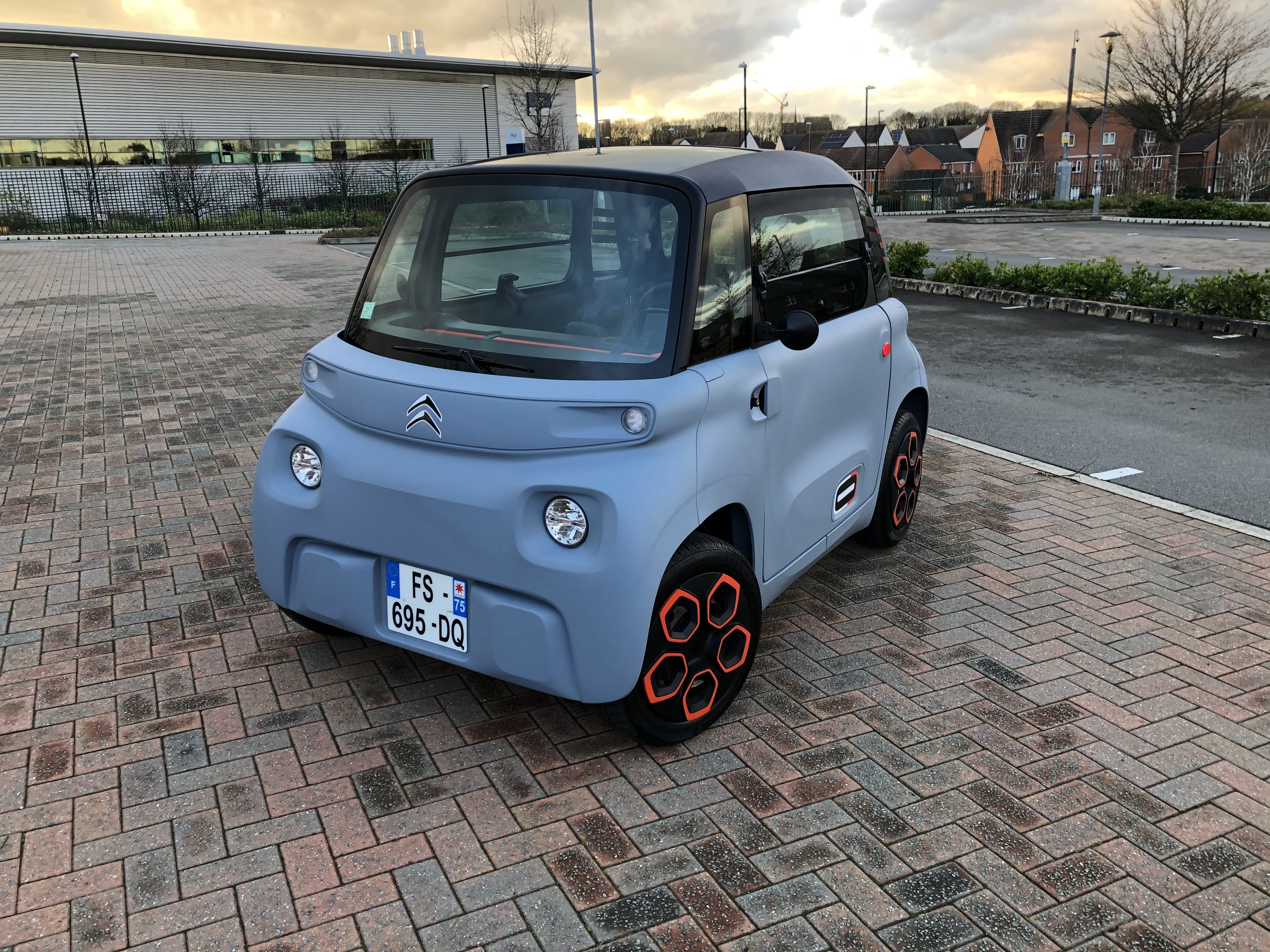 Words by Vicky Parrott
"This is not a car," said the nice man from Citroen, gesturing to the dinky cuboid on wheels next to him. "It's a transport solution." 
Righto then. To be honest, you don't need a press briefing to see that the pure electric Citroen Ami isn't a car in any conventional sense. The dinky Ami looks like a Kinder Egg toy made life size. Underneath the plastic panels it is, of course, a quadricycle. There's still a steering wheel, and you drive it just like a car, but the very basic construction and light weight gives the Ami different classification to cars on the roads. So, for instance, a 16 year old with a basic Compulsory Basic Training (CBT) can drive the Ami on UK roads, while a 14 year old or – oddly – banned drivers can drive it in France.
Citroen AMI: the facts and figures
Motor: Single electric motor, front-wheel drive
Battery capacity: 5.5kWh total 
0-100% charge time: 3 hrs
Max charging speed: 1.8kW
Max power: 8bhp
0 to 62mph: n/a
Top speed: 28mph
Range: 43 miles (WLTP) 
Price (est): £5400 (est) / under 30p per minute 
Not just for those without a licence
Image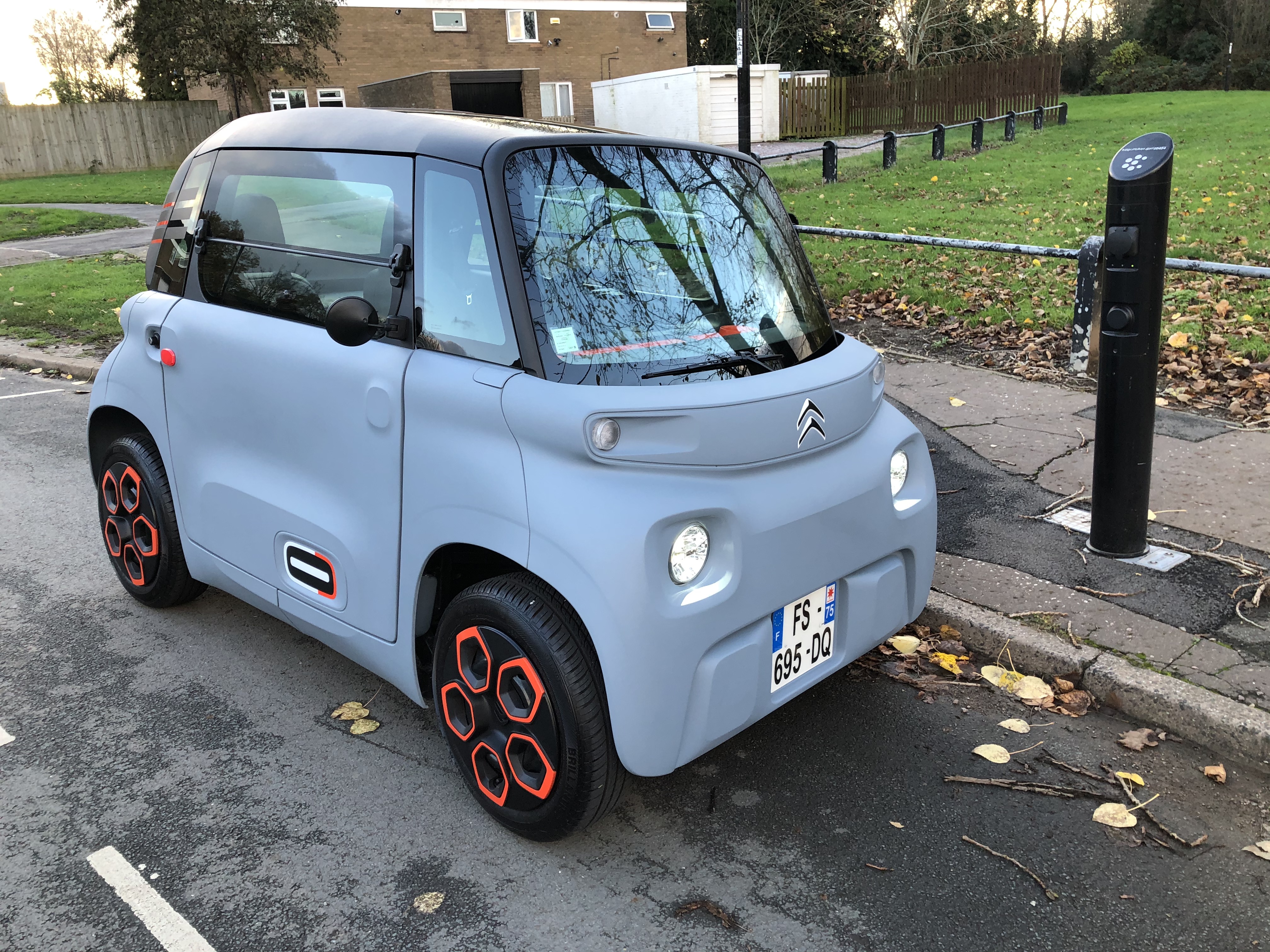 The dinky Ami looks like a Kinder Egg toy made life size
That's the least of its appeals, though. The ultimate purpose of the Ami is to offer seriously cheap urban transport. It's only on sale in France, currently, but if Citroen brings the Ami to the UK at the same sort of price, we'll be paying around £5400 to own it. Perhaps more intriguing is the prospect of monthly payments from as little as £20 per month following a deposit of around £2000. 
Likely to be even more pertinent is the suitability of the Ami when it comes to car sharing. It is already being offered in Paris for the equivalent of around 23p per minute. You just use a phone app for access, so it's a similar model to how you might rent a bike or e-scooter in most major cities these days – only with this intriguing not-a-car. 
A 5.5kWh battery gives the Ami a range of up to 43 miles, which is pretty good for such a small battery, but then again the Ami weighs only 485kg so it doesn't have to try hard to be very efficient.  
The three-pin charging cable is wired directly into the car and is neatly tucked away in a cubby in the door frame, which is accessed with the passenger door open (this doesn't stop the cable from being run out while charging with the door closed). It'll fully charge the car in around three hours from exactly the same sort of socket that you plug your phone into at home. 
You'll also want to pick up a converter that allows you to charge at a Type 2 kerbside charge point, which may well be the more convenient method of topping up the battery if you don't have a driveway. The three hour charge time will still be the same, but with one of these widely available converters (which Citroen will likely offer as an accessory option with the car), you can still use the public charging infrastructure.
Weird on the outside, big on the inside
Image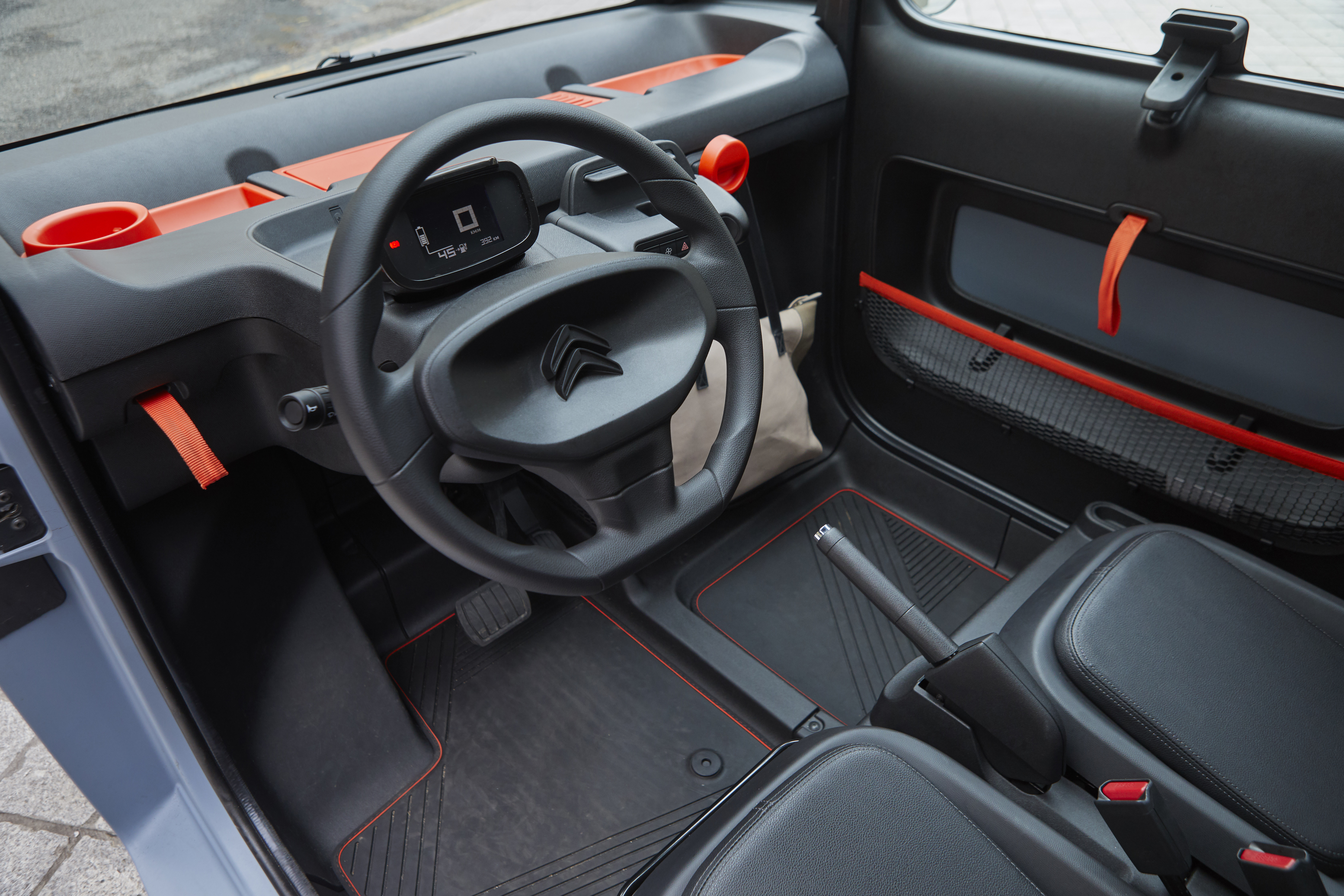 Even looking at the Ami, it's clear that this is an exercise in cost saving. The mirrors are clearly from a scooter, and the panels are plastic and cheap to replace. Cleverly, many of those panels are also mirrored around the car. The doors are interchangeable - by having them both the same panel shape and having one hinged at the front and the other hinged (more unconventionally) at the back, Citroen needn't manufacture doors for the left and right side of the car. The front and rear panels are also the mirrors of each other and, of course, the more interchangeable panels there are the cheaper to produce and replace. 
Citroen has done such a good job of this that, but for the colour of the lights, it can even be hard to tell which is the front or the back the Ami. 
Slide into the driver's seat and you're faced with a surprisingly deep dashboard that stretches away from you in a patchwork of moulded cubbies. It does look a lot like a wipe clean primary school desk, but it's also bright, functional and in-keeping with the cute, no-nonsense feel of the rest of the car. That theme continues with the moulded, one-piece seats that lack backrest adjustment, although they do slide backwards and forwards. 
Image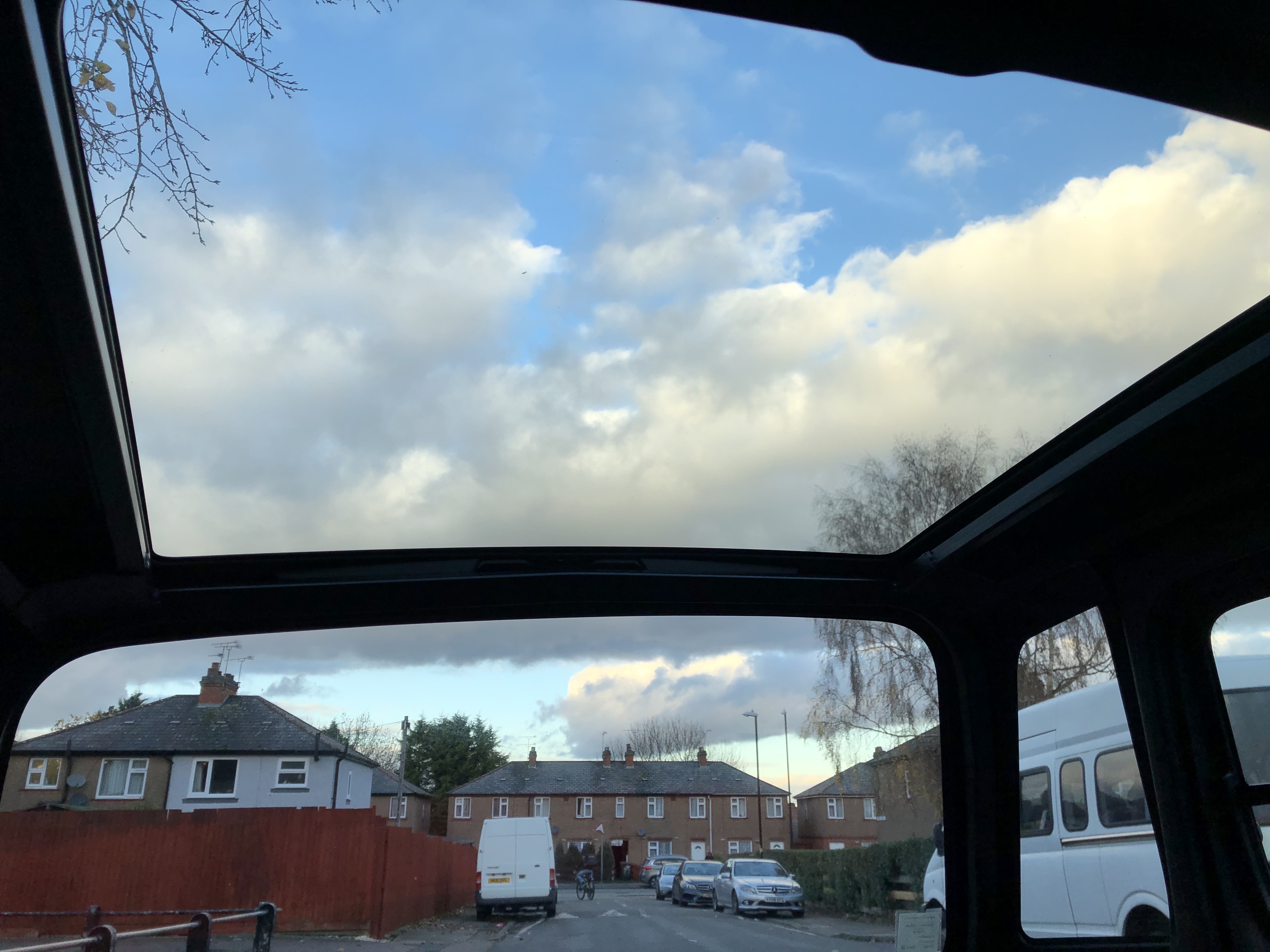 Once you've got used to the surprisingly cabin-aft driving position, there's a digital readout that shows speed, battery range and cradle for your phone on top the dash top complete with USB charger, a bag hook, and a single switch to turn the heater on or off. There are even useful touches like a cup holder behind the driver's screen, while fabric loops serve as door handles (cheap yet, oddly, kind of cool).
A net divider separating the passenger footwell from the pedal area is a neat safety touch, and makes for a convenient place to sling your bags if you don't have company. It also feels surprisingly airy given the huge glass area. The Ami's body is getting on for 50% glass, not least thanks to the glass roof panel that's standard fit.
A proper passenger seat is present and correct, and there's even a shelf for luggage behind those seats, not to mention windows and doors - unlike the Renault Twizy that is the closest rival to the Citroen Ami. The split window even opens manually via a top hinge, just like the 2CV used to do, which is a rather cute and fun detail for anyone who likes a nostalgic detail. The single windscreen wiper, too, is a nostalgic touch that anyone who's actually spent time in cars with a single flimsy wiper such as that on the Ami will know is a truly miserable feature no matter how rose-tinted your glasses might be. 
It all feels very plastic and cheap, but that is the whole idea, and once you've come to terms with that it's easy to be impressed by how much usable space there is in the dinky Ami. 
You're not going to want to spend much time in there anyway... 
Image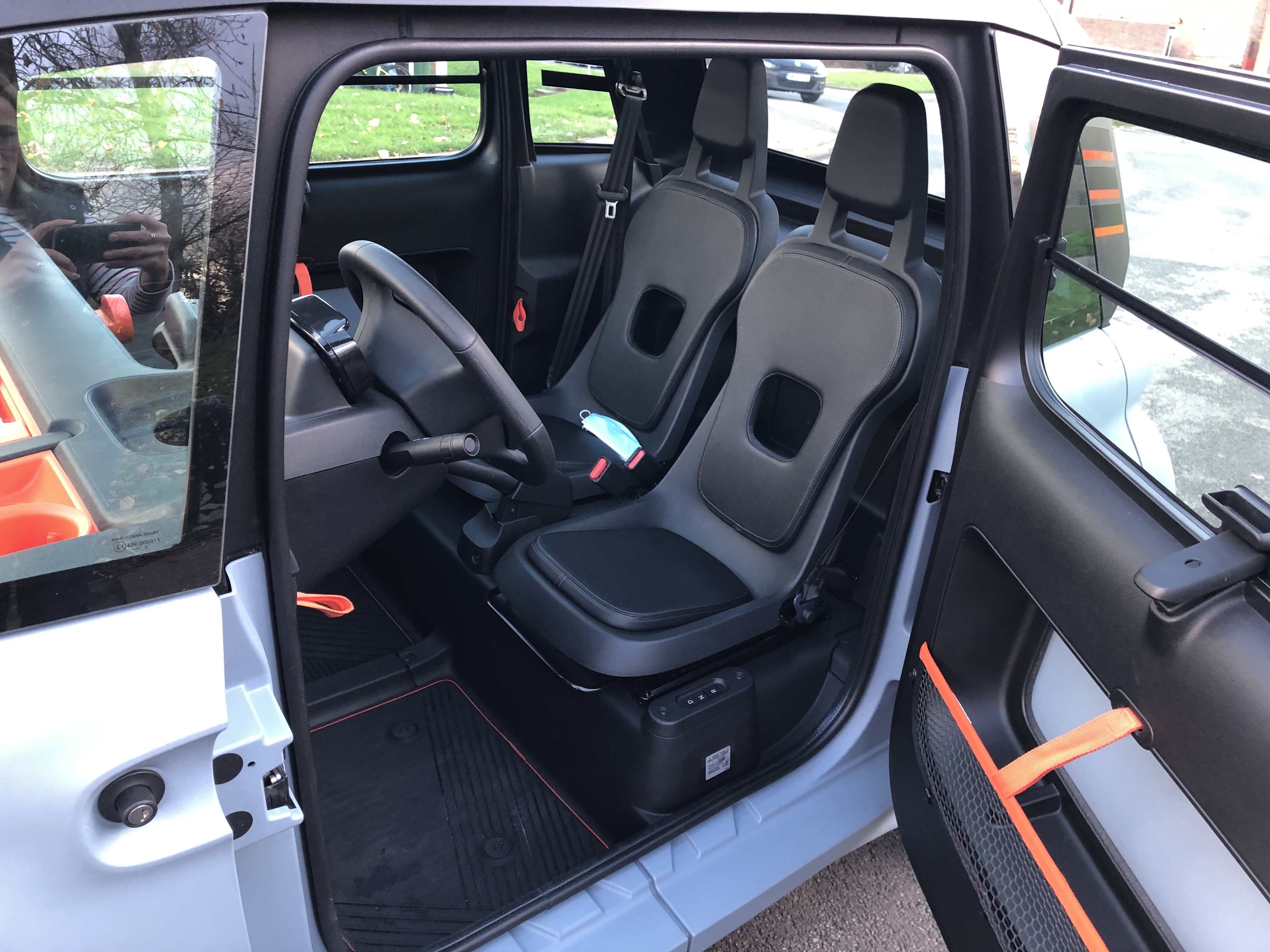 And what's it like to drive? Noisy. Really noisy.
Even if you haven't got the heater on, which sounds and feels like a hair drier pointed directly at your face. The windows rattle, the 8bhp electric motor whines as it drives the tiny 155-section front wheels, it's all just hilarious. It would be very easy to feel that it's hilariously terrible, but even as the Ami bumps and whirrs over the Coventry roads of our test route, the way in which it could feature as an urban specialist is quite clear. 
It is absolutely tiny, for a start. At 1.4 metres wide and 2.4 metres long, it's some 1.2 metres shorter than a VW Up! Between that size, the light (if rather disconnected feeling) steering, and a comically tight turning circle of 7.2 metres, the Ami sneaks through muddled town roads and into unlikely parking spaces like some kind of urban ninja. 
Acceleration is not bad at all off the line – you will likely even beat a few other cars away from the red light if they're a bit busy gawking at the cuboid oddity sharing the road with them - but it begins to feel wheezy by the time you stretch towards the 28mph top speed. Look on the bright side, that does mean that you can legitimately tell your mates that you hit V-Max on your way to work. 
Ride comfort is a bit lively and uncouth; the little Ami is quite firmly sprung, and also dinky enough that a sharp-edged pothole under one wheel will have the whole frame shivering, but it is also unphased by bigger intrusions such as speed bumps and comfortable enough for the basic transport it aims to be.
The whole thing is no-nonsense and impressively well thought out. Basic as it is, there's been real consideration given to the practicalities here; the layout, the style, the durability of it all has not been taken for granted.  
Who will use it, and how? 
Image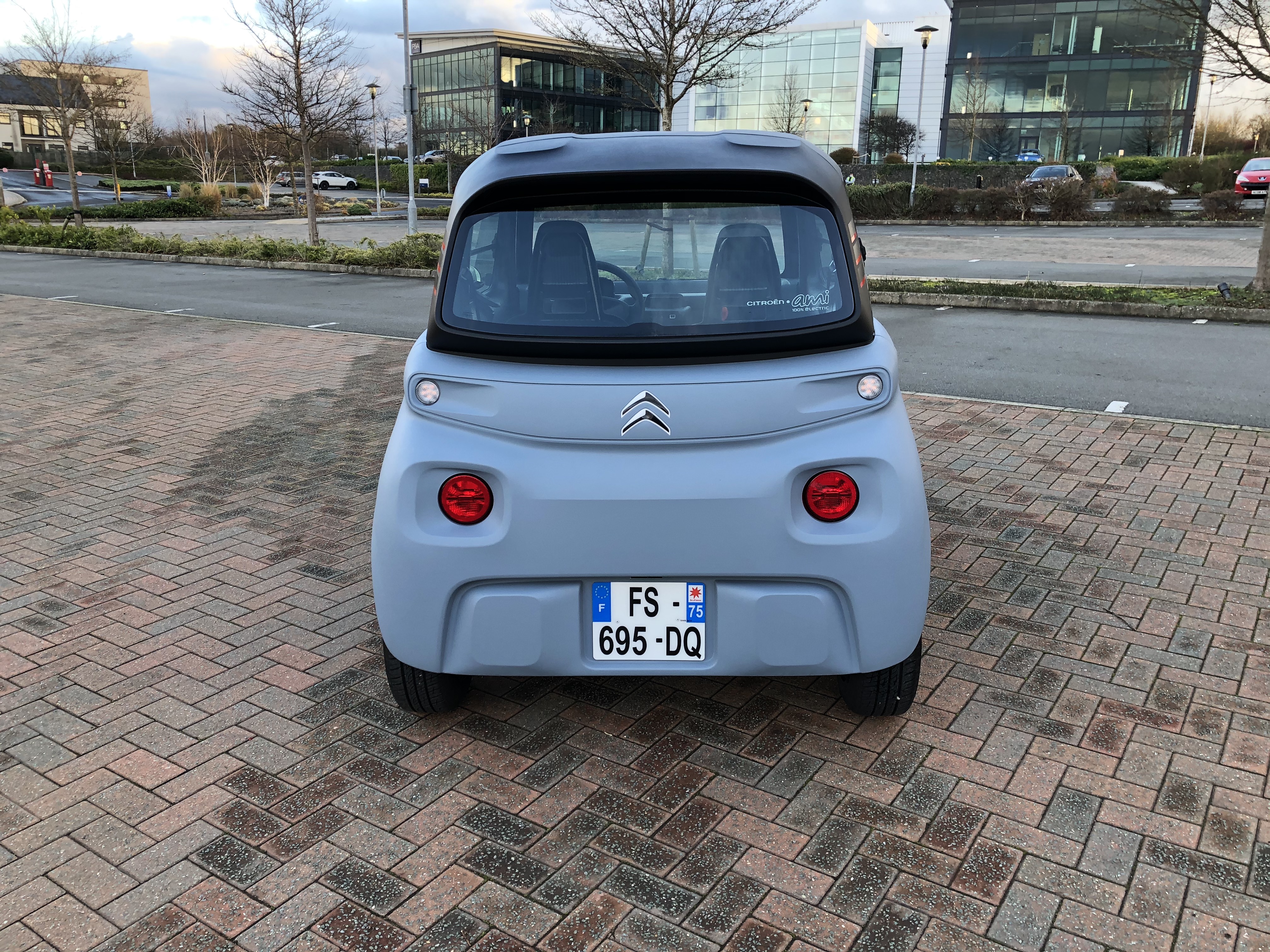 In truth, the difficulty is in changing the mindset to think of this not as something that you might want to buy, but as something you might just want to use occasionally. 
And it's easy to see how a city with a host of Amis dotted about – available to use for a few quid whenever you need them – could be a winner. Should city centres become available exclusively to electric vehicles, the prospect of a system allowing you to park your car up on the outskirts and hop into an Ami for the last few miles is also something to consider. 
All of this is no more than unsubstantiated musings on how the Ami might best serve – after all, it's not even confirmed for sale in the UK yet. Citroen is currently gauging interest to see if there might be enough demand, so watch this space.
In short, there's no doubting the brazen shortfalls of any quadricycle; even one as well thought out and executed as the Citroen. But given how modern cities are shaping up in terms of transport, having a pod of Amis available for the dash to the outskirts of town, or to avoid the crush on the tube…
Well, the man from Citroen was quite right. It is most definitely not a car. But if Citroen can make it available enough and cheap enough – especially on an urban car sharing platform - it could be a really good transport solution.
Image