Are BMW Motorrad about to revolutionise two-wheeled urban travel?
Image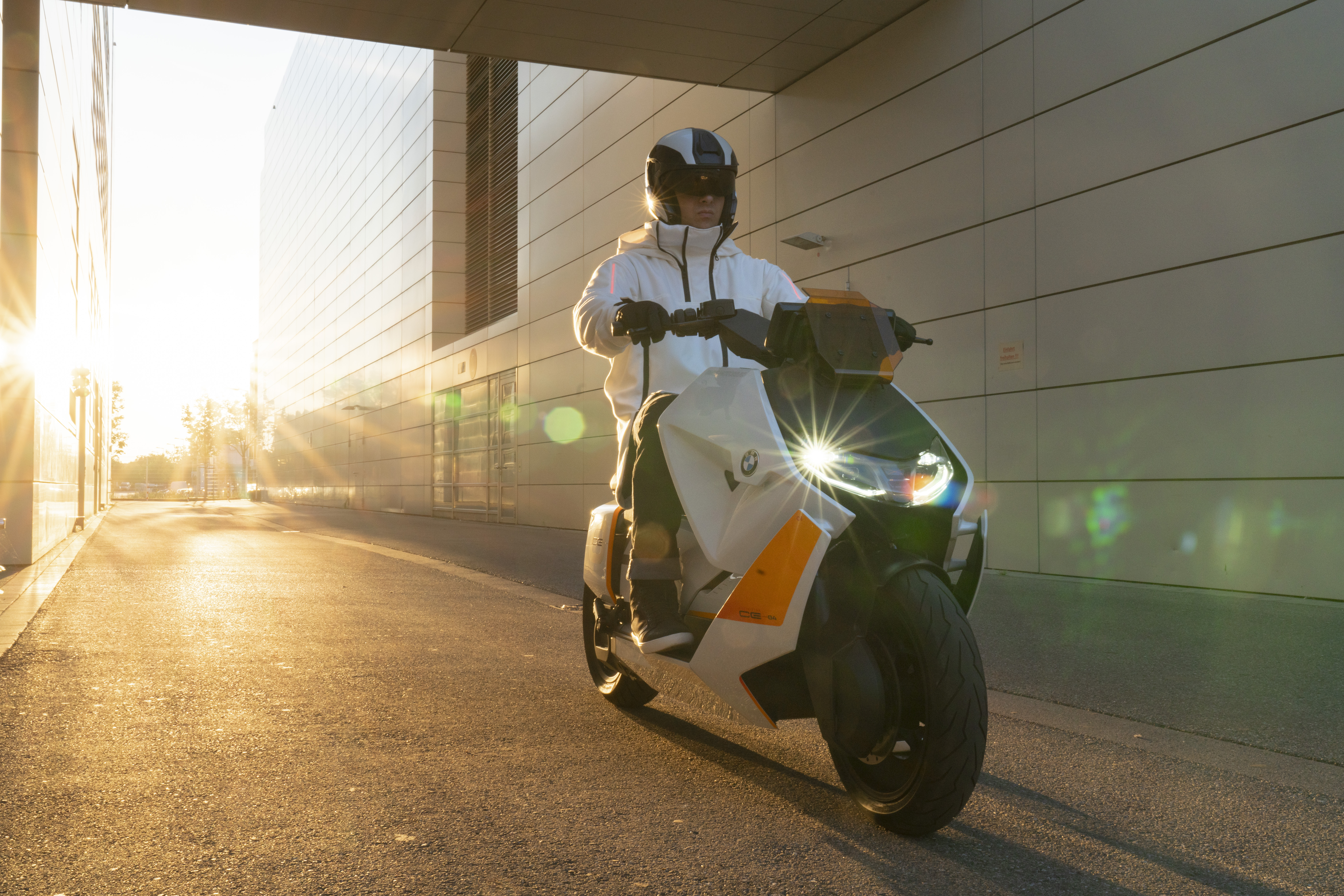 "It is not a 'fun bike' which is taken for a ride in the mountains in fine weather, but a practical everyday vehicle for driving from home to the office or meeting friends in the evening - simply a vehicle for every day in the city." Alexander Buckan, Head of Vehicle Design BMW Motorrad.
In 2017 BMW unveiled a striking all-electric scooter and now, some three years later, the German automotive giant are a step closer to this bold concept becoming a reality. Step forward the BMW Motorrad Definition CE 04, an almost street-ready, futuristic looking piece of kit designed to take on the urban environment and redefine the enormous global scooter market with a projected range of around 75 miles. In a wider context, BWM see the Motorrad Definition CE 04 as a link between the analogue and digital worlds both a means of transport and a means of communication for the urban commuter with its fully electric drive, trailblazing design and innovative connectivity solutions.
Edgar Heinrich, Head of Design at BMW Motorrad, said of the project: "Electric mobility is a central drive system for the BMW Group and we are consistently relying on this technology in our sustainability strategy. Electric drives are also a current topic for BMW, especially for the urban environment. 
"Since 2013, we have been a pioneer in this area with the BMW C evolution scooter. The BMW Motorrad Definition CE 04 is the logical continuation of the emobility strategy for urban conurbations and provides a concrete preview of what a contemporary production vehicle could look like, with which we will take two-wheel electric mobility in metropolitan areas to a new level, both technically and visually."
BMW are keen to emphasise that whatever version of the eye-catching Definition CE 04 hits the streets, and how closely it retains the concepts aggressive stylings and bold aesthetics, the product is intended to stand as part of wider changing urban aesthetic – helping shape the urban environment rather than merely being a part of it. 
Image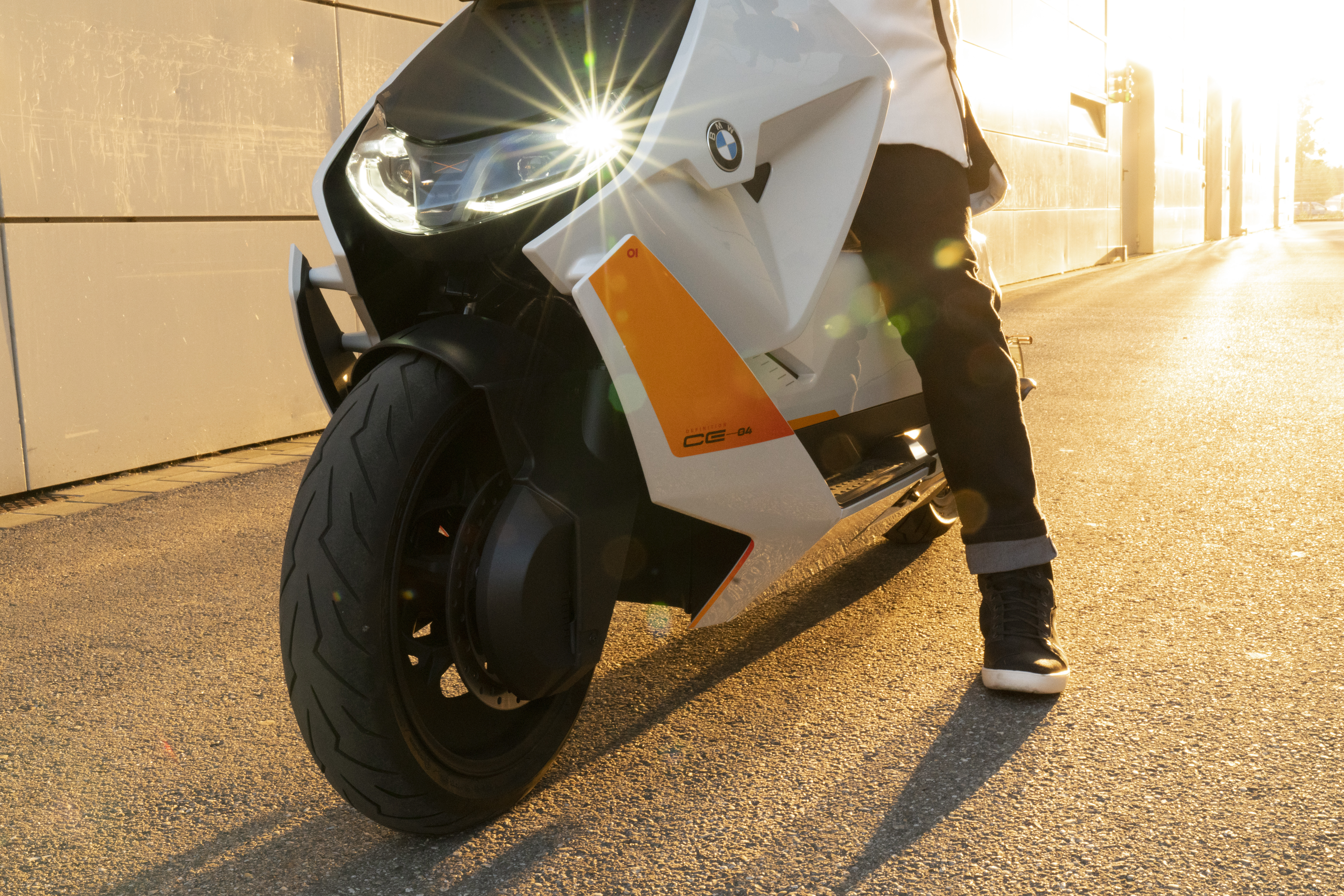 "We have managed to transfer many innovative elements and details of the concept into the series," confirmed Alexander Buckan, Head of Vehicle Design BMW Motorrad. "The technical realities of electric drive – such as the flat energy packs in the underfloor and the compact drivetrain – allow us to create a highly distinctive design which defines a new, urban aesthetic and which differentiates itself clearly from conventional styling. A design that follows the basic needs for simple functionality, clear aesthetics and the digital reality today's users live in. The new architecture has led to a visual revolution and has produced many new design themes. Maybe it will polarise, but it will definitely stand out," 
Lofty ambitions indeed, but it is clear from the evolving concept that visually, the BMW Motorrad Definition CE 04 starkly breaks with the look of how scooters are perceived and have been manufactured for decades. With an elongated, low vehicle body practicality hasn't been sacrificed and a flattened layout of the battery in the underbody provides a decent sized storage solution, which is illuminated and can be folded open from the side, giving the rider easy access for storing a helmet and other equipment. In addition, the low position of the flat battery provides a favourable centre of gravity, assisting with balance and handling, and the ergonomics of the scooter even extends to what the rider wears whilst sat on it.
BMW Motorrad have even developed a casually cut warm parka suitable for everyday use that, as well as being waterproof and lightweight, it features Innovative integrated light guides in the sleeves and hood ensure greater visibility in road traffic and can be switched on and changed in colour via sensors in the sleeve. To ensure that the rider is always fully charged up, the inside pocket of the parka has an inductive charging field for smartphones, ensuring that rider and machine are fully connected and changing what urban transport solutions can look like.
It remains to be seen how close the real-world BMW Motorrad Definition CE 04 will end up when it emerges on public sale and many riders, automotive designers, executives and two-wheeled enthusiasts will be looking to see how this potential electric gamechanger fares on the streets.
Image