2021 Toyota Mirai prototype drive: A poster child for hydrogen fuel cell propulsion
Pros – Serene to drive; circa 500 mile range to a tank; smart looks

Cons – Lack of hydrogen infrastructure; expensive next to ICE alternatives

Price: £65,000 (est)

Overall: 8/10
Image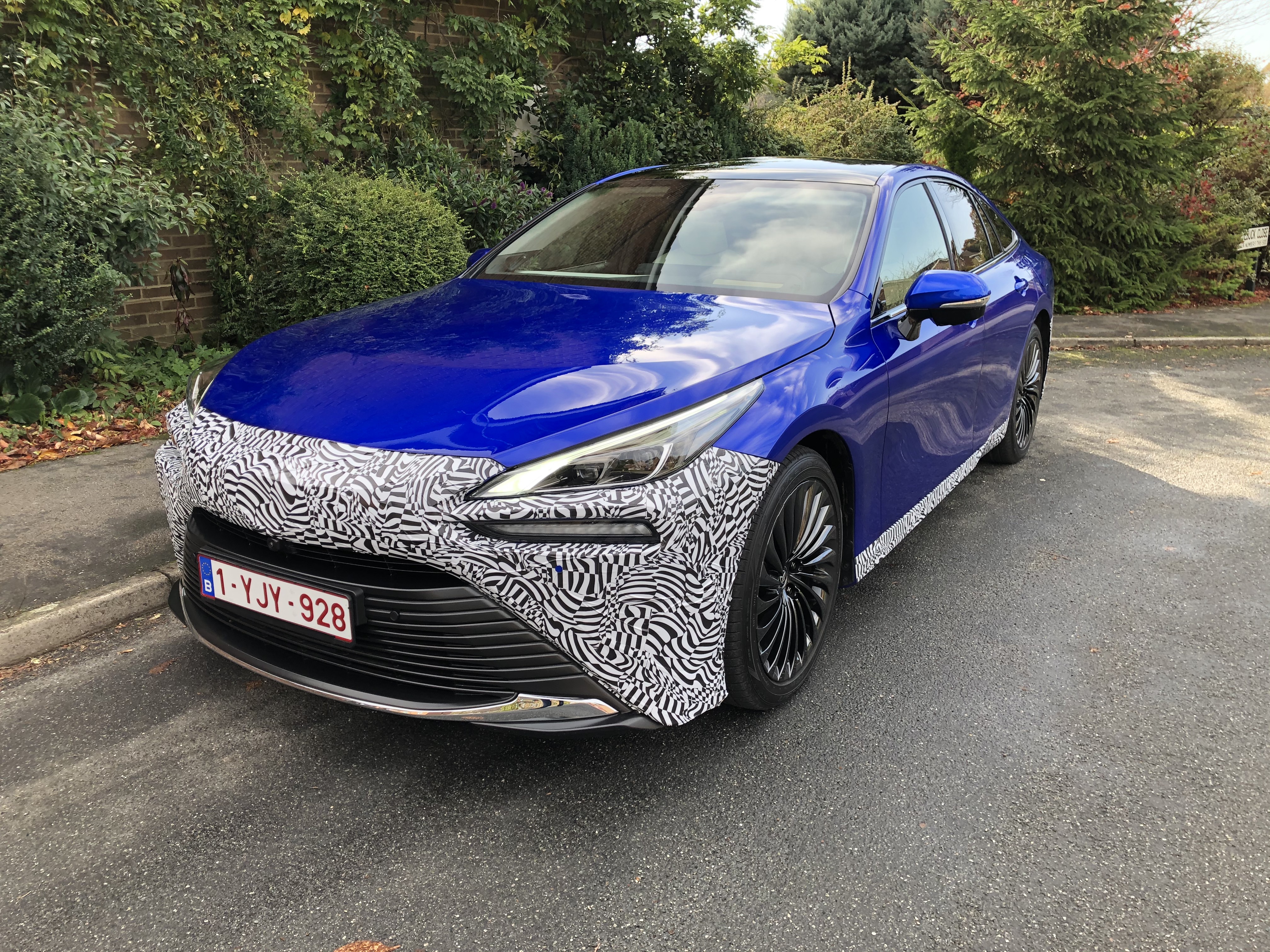 Toyota Mirai
Motor: 180bhp electric motor, rear-wheel drive
Fuel cell capacity: 330 cells, 5.6kg hydrogen tank (142 litres, equivalent)
Max power: 180bhp
Max torque: 300Nm 
0 to 62mph: 9.2 seconds
Top speed: 109mph
Range: 500 miles (est)
Efficiency: TBC
Price: £65,000 (est)
If you saw it drive past you in the street, you wouldn't know or suspect that there was anything remotely unusual about the new Toyota Mirai. But, beneath it's long, rather Lexus-like nose sits a hydrogen fuel cell stack. 
This sounds – and is, in many ways – incredibly futuristic. But it's worth pointing out that hydrogen propulsion has actually been in existence and in significant use globally for many years. We already have hydrogen trains, buses and cars that have been running without issue for many years in various parts of the world.
What has kept HEVs in a permanent pilot state for most of us is a lack of infrastructure. Even now, there are only a handful of hydrogen filling stations in the UK. So, while it is no more difficult or time consuming to fuel a HEV than it is to fuel a petrol or diesel car, finding a hydrogen filling station to do that quick top-up will be a hideously restrictive part of Mirai ownership for the foreseeable future. A deal breaker for most, that's for sure.
So, we may as well start this review in the full knowledge that the Mirai is more a poster child for a technology that Toyota hopes and believes will become part of the mainstream, rather than a car you're actually likely to consider buying. 
Image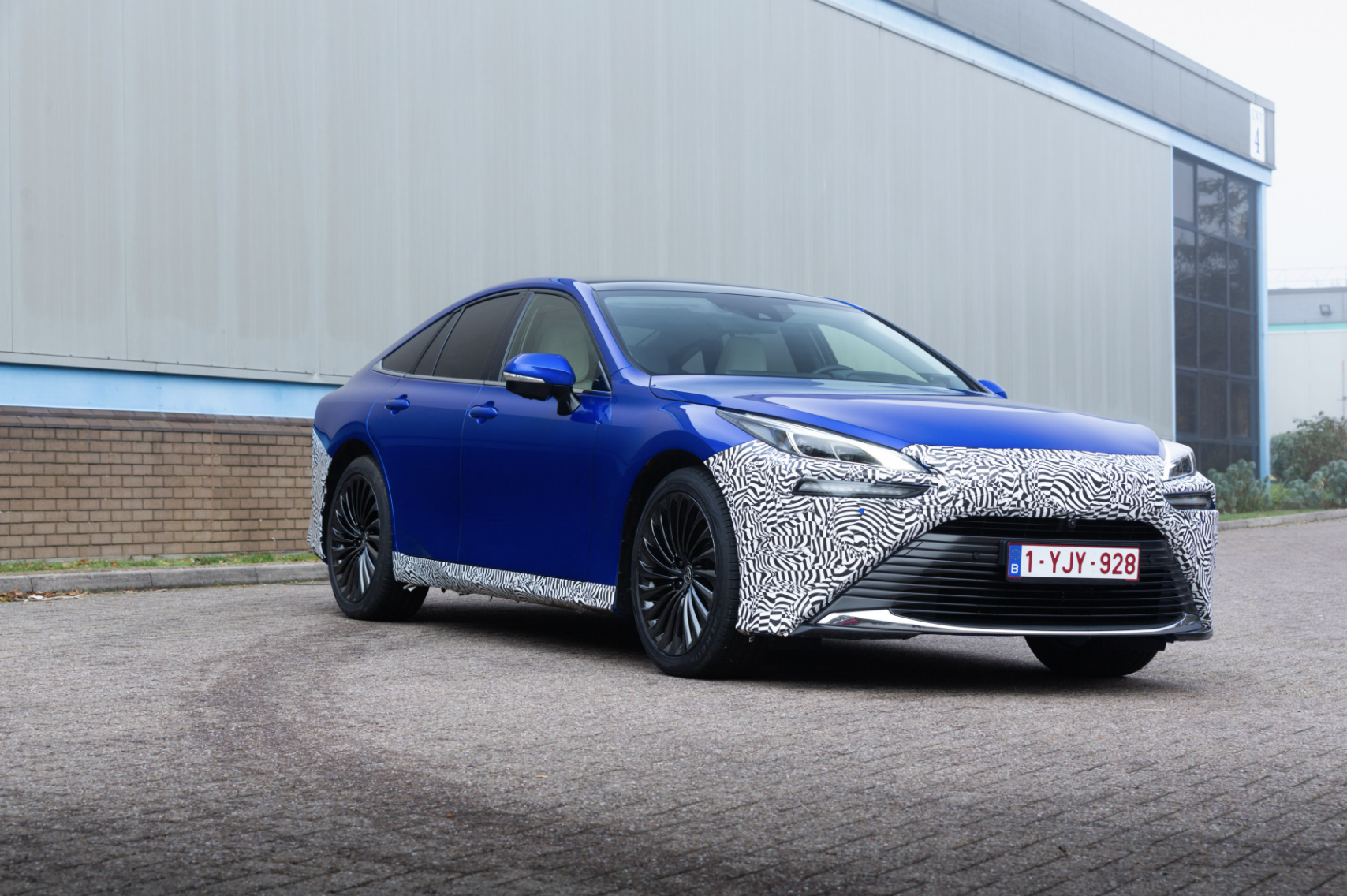 In the meantime, there is a lot to love about the zen-like Toyota Mirai. As comfort and refinement goes, this is right up there with full-on limo alternatives. Short of a steam room, it might as well be a spa on wheels, such is the cushy ride comfort, broad squishy chairs and hushed progress. There's a bare susurration of noise from the fuel cells as they execute their chemical wizardry, while the electric motor whine is inaudible at anything but parking speeds and even wind and tyre roar is just a distant, background hum. 
The hydrogen fuel cells actually works by taking hydrogen gas from any of the three tanks that line the floor of the Mirai, then mixing it with oxygen. Unsurprisingly, mashing hydrogen and oxygen together creates h2o – water. This is the only bi-product of a HEV, which trickles from its tailpipe. There are no other gases or emissions, but the clever bit is that the chemical reaction also creates energy, and that energy is what powers the Mirai's electric motor. 
It's a shame that performance is a little sedate. The 180bhp electric motor powers the rear wheels, and will get the Mirai to 62mph in 9.2sec, which would get laughed out of any boardroom in Germany, were premium executive saloons under discussion. 
In truth, the Mirai doesn't feel slow on the road. Because it's driven by a direct-drive, single speed electric motor just like that found in almost any other battery-powered EV, you get the same seamless build of acceleration that's so predictable and easy to modulate. 
Image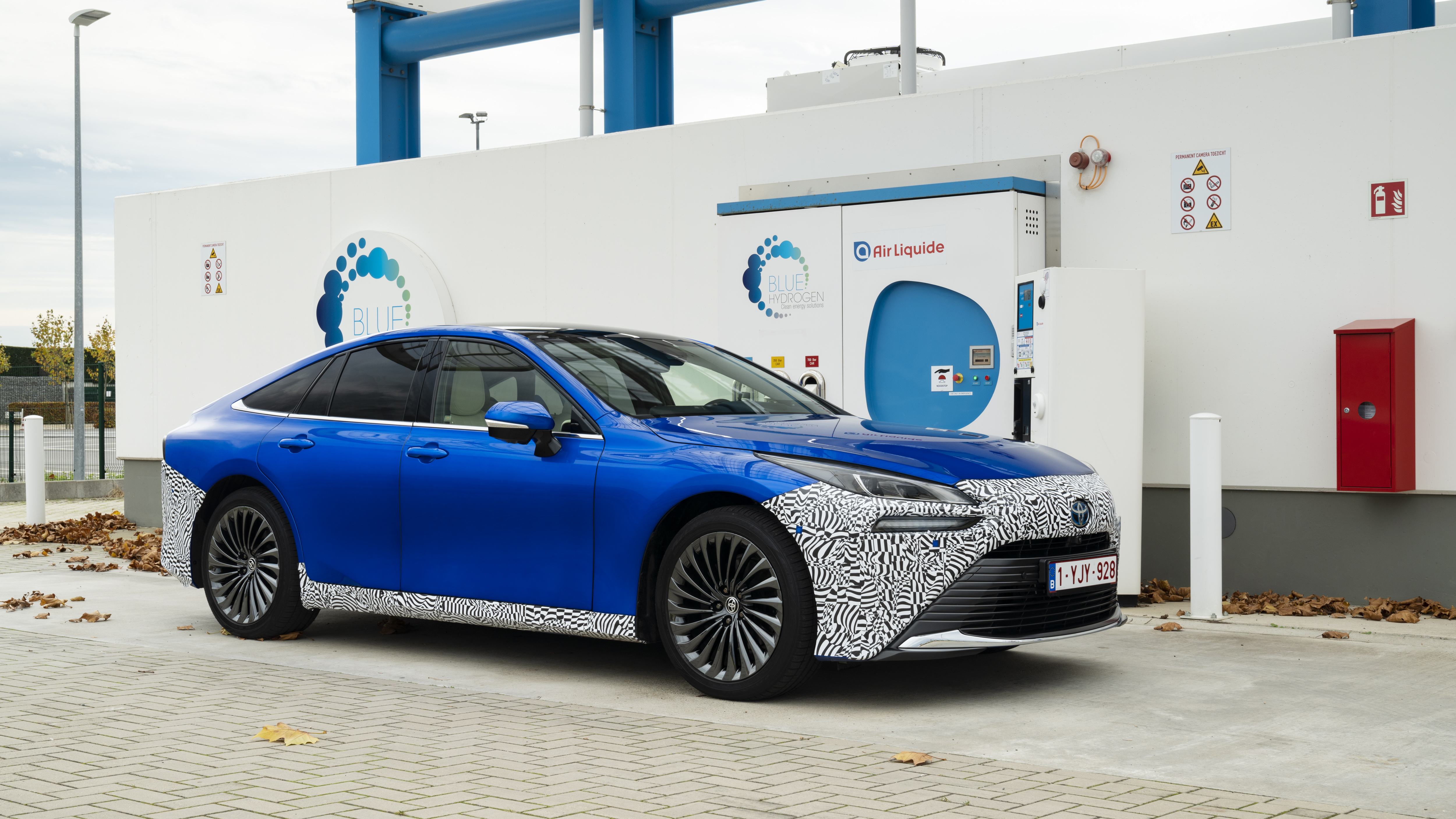 There's also enough gumption for a cheeky exit into fast traffic or merging onto a busy motorway, and it feels more than comfortable in the normal ebb and flow of everyday driving. Yet it is rather stately by the standards of the BMW 5 Series and its like, never mind a Tesla Model S. Toyota has said that it can fit a more powerful electric motor should there be call for it, but with the Mirai intended to showcase hydrogen efficiency rather than performance, engineers opted for the modest option. 
And frankly, although the Mirai's light and precise steering is satisfying enough on a decent country road, everything about the car from its driving position to its powertrain encourages calm, soothing progress. You can go quickly around corners if you want it to, of course, and it's just fine. You can also wear your pyjamas to a job interview, if you'd like to. 
The Toyota's impressive strengths are absolutely in the zen-like way it goes up the road, and for plenty of drivers that's quite understandably the ultimate in luxury progress. 
As with the styling, refinement and most other aspects of the Mirai, the interior feels like it'd be more appropriate in a Lexus. The huge touchscreen has all the functions you'd want, most important if which are Apple CarPlay and Android Auto so that you can override Toyota's fiddly native nav system. It's all very sumptuous, if short of the finer aesthetic and perceived quality that you get in other more established posh saloons. There's something a bit American market about it for our European tastes, which is hardly surprising since America is a key market for the Mirai. 
Image
Yet, by any standard it's a supremely comfortable and well-appointed cabin. There's masses of room in the back for two adults to lounge about, and the big boot will take a good number of suitcases. 
In short, the new Toyota Mirai is an exceptionally good example of how well hydrogen can work, even by the hard-fought standards of today's premium saloons. But, as we said, it is not a car that you'd be advised to buy. Toyota is aware enough of this that it may yet only offer the Mirai on a corporate leasing basis, rather than on a retail basis. You certainly won't be seeing them in every Toyota dealership, even if retail purchases are made available in the UK after the car goes on sale in early 2021. 
So, we come back to the fact that we wouldn't buy a Toyota Mirai, and nor should you, but it is a car we can all admire and learn from. Toyota has never been one to shy away from the conviction of its beliefs, and while it is far from the only manufacturer to be pushing for wider adoption of hydrogen (the Hyundai Nexo hydrogen SUV has been in the UK for a number of years), its dedication to and refinement of fuel cell technology is something of a guiding light as the world muddles through a transition to renewable fuel vehicles.
Image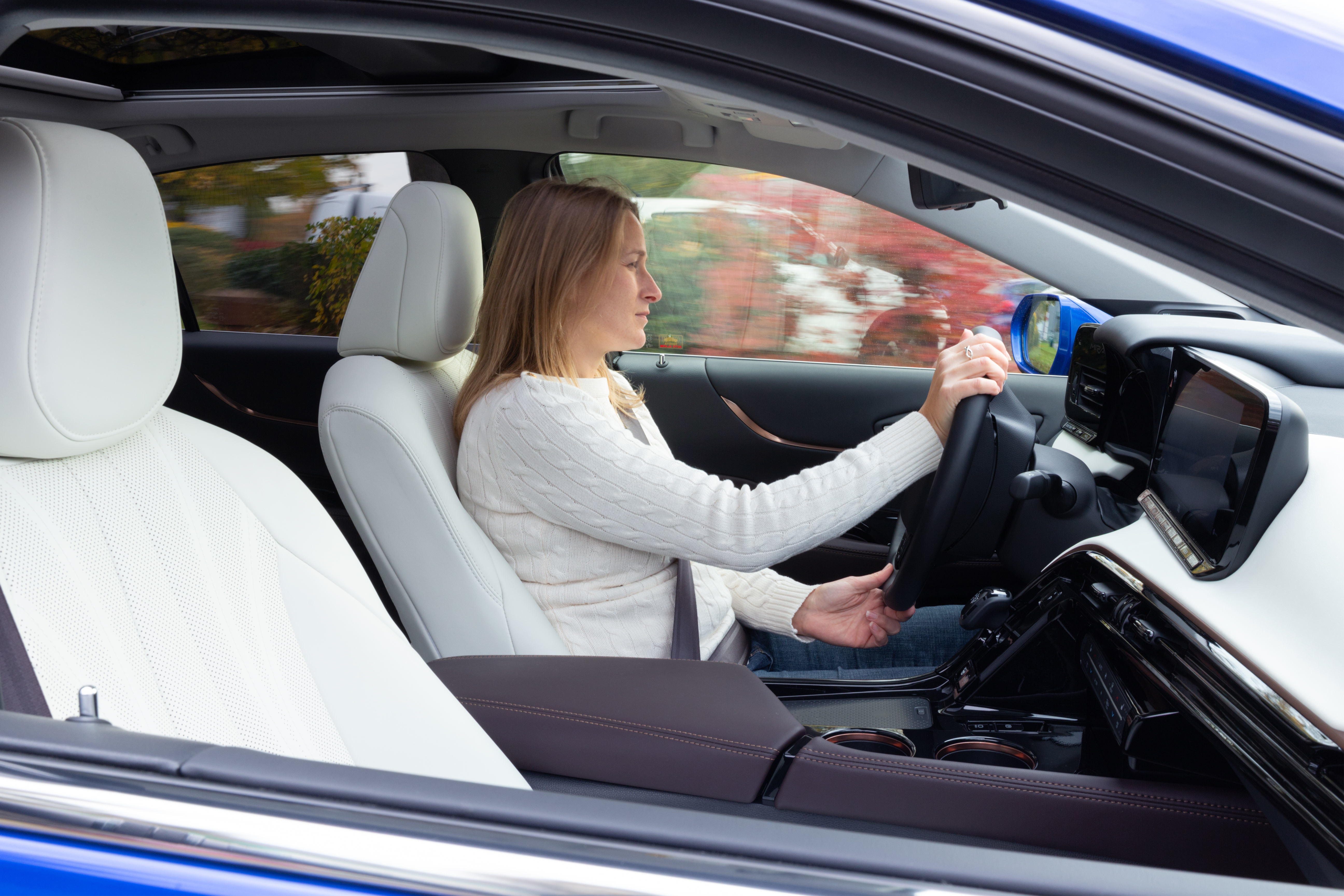 Vicky Parrott